Snow skiing can be an extremely expensive hobby.
Daily lift ticket prices are north of $100 at many major ski resorts (my family's favorite resort, Northstar California, charges up to $130). Ski lodging can also be a major expense, with some hotels, vacation rentals, and condos charging hundreds of dollars a night.
Add in the cost of all the gear and equipment required to hit the slopes, and a family ski weekend can easily set you back thousands of dollars.
However, today's hint is how, with some proper planning and smart shopping strategies, you can take your family skiing for less. The method: Cut the cost of ski gear for your growing kids.
While adults can wear snowsuits, skis and boots year after year, kids often rapidly outgrow their ski gear. Some clothing and gear only lasts a single season before a growth spurt necessitates an upgrade. But instead of shelling out big bucks nearly every year for kid jackets, helmets, boots and skis, you can save money by following the four tips below.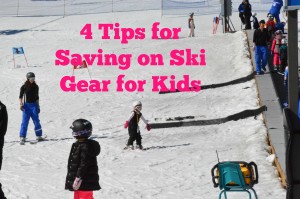 1. Maximize hand-me-downs. Kids outgrow their ski gear long before it wears out since they only wear the gear a limited number of days a year.  This means hand-me-down kid ski gear is often still in good shape. So, find friends with older children who might be willing to pass down their used ski gear (either for free or for a reasonable price). 
Local parents groups and even craigslist are also great places to find slightly used children's ski gear for purchase.  In addition, consignment shops sometimes have good selections, depending on where you live, and some communities even offer ski clothing swaps where you can snag bargains.
Don't forget to make hand-me-downs work within your own family as well.  Plan to pass your older child's ski gear down to younger kids.  If you have both boys and girls in your family (or might have more kids in the future), I strongly recommend buying as many gender-neutral items as you can for maximum reusability, a tip Hint Mama is a fan of too. A black ski bib works well for young boys and girls alike, and it's easy to find neutral-colored helmets, ski socks, thermal underwear and other items.
2. Borrow from a friend. If your family only schedules a single short ski vacation a year, you might find friends willing to lend their children's ski gear to you for a weekend. Just make sure your family and theirs aren't going to ski at the exact same time.
3. Rent gear (and not just skis!) I recommend renting at least skis and boots for your little ones.  Once your kids are in their teens and have demonstrated a sufficient interest in skiing, it might then make sense to invest in gear that can be used for many seasons. You can rent skis and boots on a trip-by-trip basis, but also consider looking into a season-long lease if your family plans to ski a lot.
You can save even more by renting gear for your kids off-mountain or even at a ski shop in your hometown.  Prices are more reasonable the further you are from the slopes.  And renting before your trip can save you a lot of time.  There is nothing more frustrating than standing in long ski rental lines the first morning of your trip when you just want to hit the slopes.
While skis, boots, and helmets are the most-often rented items for kids, you can also rent ski clothing.  Many local ski shops in big ski destinations like Tahoe or Colorado offer rentals of ski jackets and other clothing items.  Alternatively, you can use a nationwide service like Mountain Threads that will ship ski clothing to your destination.
4. Shop for next year's gear at the end of the ski season. Finally, for those who want or need some new gear for their kids, it's crucial to find items at a discount.  Ski shops often drastically mark down ski gear in March and April as the ski season comes to a close.  This is the time to purchase gear and clothing for your kids for the next ski season. Buy one size up and save a bundle.
What are your tips for saving on ski gear for your kids?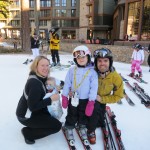 Hint Mama contributor Leslie Neeland Harvey is an attorney in San Francisco and mom of two kids, ages 5 and almost 1. She blogs about the joys and challenges of family travel at Trips With Tykes. Visiting scattered family in Alabama, North Carolina, and Connecticut, she and her husband find themselves flying with kids many times a year. Her philosophy: Good planning can make family travel really fun, even if it still involves the occasional in-flight tantrum or battle with TSA agents about shelf-stable milk (it's allowed, folks!). Follow her on Facebook, Twitter, Pinterest, and Instagram.
Follow Hint Mama on Facebook and Twitter, and read more about her and her disclosures.