My 2-year-old daughter recently found some "bracelets" she loves to wear around the house.
No, she wasn't raiding my jewelry collection, thankfully. Rather, she repurposed some rattles she found in the baby toy bin in her play area, baby toys she's paying a lot more attention to since her newborn brother arrived.
As I've mentioned before, some of the best hints come from watching my 2-year-old daughter in action. Today's hint – a tip for making use of baby rattles long past the baby stage and for saving on toddler jewelry – is one of those.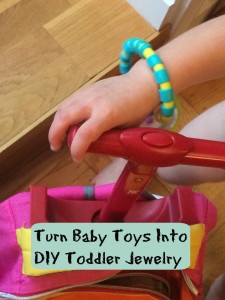 To be sure, not all rattle designs are easily repurposed into toddler bracelets. Rattles with roundish handles perfectly sized for toddler wrists work best, like the one in the images above and other similar rattle ring designs from brands like Sassy and Bright Starts. The round links (like these from Bright Starts) and clips that can attach baby toys to play gyms also work great as do some circular teether designs (like this one from The First Years).
Of course, not all toddlers will necessarily want to wear "bracelets." Still, for those little ones who are into playing jewelry dress-up, turning old baby toys you have around the house into DIY bracelets is worth trying before you shell out money on jewelry specially designed for little wrists.
Like the idea of repurposing rattles but looking for more ideas of what they can become beyond "bracelets"? They can also make great toddler-friendly ornaments (turning baby toys into tree decorations is an awesome holiday hack from Baby Toolkit).
How have you repurposed rattles and other baby toys? And what are your tips for saving on toddler jewelry?
Follow Hint Mama on Facebook and Twitter, and read more about her and her disclosures.