So much of life — especially parenting — is figuring out the little tricks that can help you save time, money and/or your sanity. Today's hint, the second in my series on repurposing bathroom supplies, is one such little trick that's worth knowing: Shower curtains are your friends.
What do I mean by that? Well, it turns out that inexpensive nylon or polyester shower curtains (or liners, like those you can find in the bathroom section of your local Ikea or Target) can help you frugally keep kid messes in check, if you repurpose them in these three ways.
1. The shower-curtain splat mat. Put a shower curtain under your toddler's high chair if your eating area is carpeted and your little one is in the food smearing/throwing/dropping stage. Don't have a shower curtain? As Hint Mama wrote a while back, disposable garbage bags and plastic bags from the dry cleaner work well as DIY splat mats too.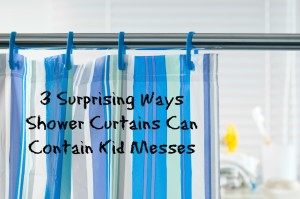 2. The shower-curtain travel blanket. Consider keeping one in the trunk for when you're visiting friends or family, or out for the day. They are lightweight, packable, and washable — you can even throw one down on the grass or beach if you need a place to sit. Plus, they can be much cheaper than products designed just to be travel blankets.
3. The shower-curtain furniture cover. Cover a chair or bed with a curtain if your little one will be napping or playing there as a first line of defense again drools, spills, or other accidents.
Be sure to wash a shower curtain before you use it to get rid of any chemical residues or odors, and note that most curtains are water resistant, not 100% waterproof.
Other bathroom supplies can be repurposed, too. Cheap bathroom hand towels, for instance, can be used many ways: guerilla diapering, spit-up/barf cleanup, wet spot on seat absorber, impromptu bib, drier of hair or body, hard or wet surface seat cover, paint/glue/glitter wiper, blood absorber, sling or wrap for injuries, ice cube holder, nose-blower, rolled-up head rest or leg-prop, and lightweight blanket for the car seat or stroller.
(Note: I have indeed done almost all of these things. Yes, I diapered my newborn son in a towel when he had a total blowout and I was sans extra diaper. Rookie mistake. New moms take heart: I cried – but now I can laugh about it!)
Bath rugs, meanwhile, can help you control backseat messes, as I wrote in an earlier hint. And finally, a brief mention of a hackable soap marvel that I believe all parents should know about: Dr. Bronner's Magic All-One.
How have you repurposed shower curtains and other bathroom supplies? How have you made DIY splat mats, travel blankets and furniture covers?
Karen Witham is a mother of two children who she can't believe are already ages five and seven. She spends her time on both sides of the Bay, working full-time as an editor and writer in San Francisco and living in Oakland. A transplant from the East Coast, she spent ten years living in Boston and also loves New York and most of all, Paris. Karen has a B.A. from Brown University and an M.A. from Emerson College. She blogs at Thoughtstream. Connect with her on Twitter at @kewitham or LinkedIn.
Follow Hint Mama on Facebook and Twitter, and read more about her and her disclosures.