Leaving the house with an infant can be tough. There's a ton of gear you have to remember to bring, and pulling out of your driveway with a wailing baby in back is never fun.
However, I recently tried out a product that solves at least part of this problem and that is today's hint: the Dozer Rocker from Baby Fanatic. It's essentially a battery- (or outlet-) powered wedge that fits under a car seat and rocks it, without the help of mom and dad's hands or feet.
I'm pretty picky about what products I test out – in fact, I rarely do reviews. However, after reading a pitch about the Dozer Rocker, I immediately saw the use case, so I agreed to receive a device to test out once my baby arrived.
Well, now that my son is 2 months old, I've had a chance to use it. For me, the product has especially come in handy when I'm planning on leaving the house shortly, but still want to get a few things done first without a baby in my arms.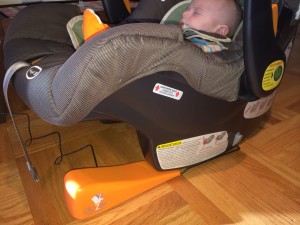 I simply put my son in his infant car seat, wedge the Dozer Rocker under the seat, plug the gadget in and turn the rocker on. Generally, my little one is blissfully sleeping within minutes and I can go about my business. Then, when I'm ready to head out, I simply turn the rocker off and carry my sleeping son into the car, where his nap typically continues. In other words, leaving the house is a lot less stressful.
I can also see using the device after arriving at a destination, when I want a car seat nap to continue indoors and want to keep my hands free, or when I'm in need of a portable swing of sorts or a "self-rocking cradle" to use the company's lingo. The Dozer Rocker was designed to be used on the go, so it's small enough to fit in most diaper bags, and it also works with most car seats and with babies up to 20 pounds.
To be sure, there's a limit to how much time a baby should spend in a car seat, and safety experts generally advise against having babies sleep in car seats outside of the car.
For instance, to reduce the risk of SIDS, the American Academy of Pediatrics advises parents to move babies that fall asleep in a car safety seat, stroller, swing, infant carrier, or infant sling "to a firm sleep surface as soon as possible." And the AAP also states that car seats should just be used for travel and not for "sleeping, feeding or other uses outside of the vehicle."
Given these recommendations, I wouldn't use the Dozer Rocker for extended periods; rather, I like using it for short stints before I head out, to relax my little one and check to-dos off my list.
In addition, the rocker isn't silent; in fact, it's pretty noisy. The "white noise"-like sound, however, may help keep little ones asleep. The rocking motion also can be a bit jerky (though my son doesn't seem to mind) if the rocker isn't properly wedged under the car seat, and it can take a bit to get the right set up.
The product retails for around $30 if you want just the battery-powered version, and it sells for slightly more if you also want a wall outlet adapter (I recommend going for the latter based on feedback from reviewers on Amazon.com).
What are your tips for easily getting out of the house with an infant?
A Dozer Rocker was provided to me for review. All opinions are my own.
Follow Hint Mama on Facebook and Twitter, and read more about her and her disclosures.