There's a good chance you're planning to take at least one trip with kids in 2015. Help make it go more smoothly and inexpensively with the help of today's hint – a roundup of my site's best travel hints.
Since I started Hint Mama nearly a year and a half ago, the site's contributors and I have shared more than 50 hints for making travel with kids easier and or cheaper. Here's a look at some of the top tips.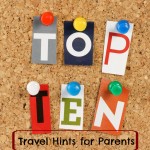 1. The Travel Diaper Change Baggie
2. Instead of Renting a Car Seat, Check it for Free on Your Next Flight
3. A Kid-Friendly Airplane Cocktail
4. The Best Toddler Travel Toy
5. 8 Ways to Change a Diaper On the Go When There's No Changing Table
6. How to Find the Best Rest Stop on Road Trips With Little Kids
7. How to Travel Lighter With Your Little One
8. How to Get Through Airport Security Faster With Kids
9. Sign Up for Frequent Flyer Accounts for Your Kids
10. A Travel Tip for When Kids are Too Big for Strollers (Think Scooters)
Still looking for more travel tips? Be sure to check out all my travel hints here. Got a travel hint to share? Share it below or drop me a line at hintmama at gmail.com. Happy Travels.
Follow Hint Mama on Facebook and Twitter, and read more about her and her disclosures.