Hope you had a great New Year's celebration, with or without your kids. As we enter 2015, Hint Mama is approaching its year and a half birthday. Since I started the site back in August of 2013, I've shared hundreds of hints to help make parenting easier and or cheaper.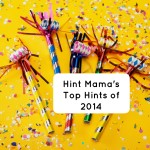 So what better way to celebrate than to provide you all with some helpful New Year's reading material that covers the site's best – or at least most popular – hints. Here's a look back at HintMama.com's top 10 hints of 2014, as measured by post traffic.
1. 7 Tips for Surviving the 18-month Sleep Regression
2. 6 Budget-Friendly Ways to Organize Hair Accessories
3. Barrettes That Stay in Baby & Toddler Hair
4. 7 Useful Baby Shower Activities
5. Plan Ahead When Buying Your First Baby's Stroller
6. How to Store Baby & Kid Clothes (& Gear) for Future Use 
7. 5 Ways to Use Up Leftover Baby Cereal
8. The Russian Secret to Early Potty Training
9. The Travel Diaper Change Baggie
10. A Rule of Thumb for Sunscreen Application
Got a hint to share? Share it below or drop me a line at hintmama at gmail.com, and if you're looking for more reading material, be sure to check out my top hints of 2013 and a look back at the top hints of the first half of 2014. Happy New Year.
Follow Hint Mama on Facebook and Twitter, and read more about her and her disclosures.