Can't find a New Year's Eve babysitter or don't want to splurge on one? Don't despair.
Even if you're stuck with your little ones on December 31, you don't necessarily have to skip the New Year's Eve party, assuming you ring in January 1 with one of the kid-friendly celebrations that make up today's hint.
1. Celebrate the New Year early at your own bash. Host, or encourage friends or family to host, a child-friendly get together where you'll all ring in the New Year early. This New Year's Eve, for instance, my husband and I are going to a 3 year old's late afternoon birthday party where we'll celebrate New Year's Rio time (i.e . six hours before midnight strikes here in San Francisco) with cupcakes and caipirinhas.
2. Ring in the New Year early at a children's museum. As I write in my latest post for U.S. News Money's The Frugal Shopper blog, many children's museums host New Year's "Eve" celebrations for families during the day on December 31. For instance, the Kohl Children's Museum in the Chicago area is hosting two sessions of a "giant Times Square style party with the biggest confetti drop you've ever seen," while the Children's Discovery Museum of San Jose and the Bay Area Discovery Museum are also hosting New Year's events. Tickets are required for some of these events, but a number of museums (like the Bay Area Discovery Museum, the Children's Museum of Cleveland and the Children's Museum of New Hampshire) include the New Year's festivities in the price of admission.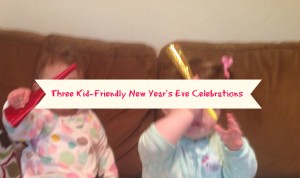 3. Celebrate with a family sleepover. In other words, as I suggested in a hint last year, host family or friends with little ones at your place, and let them stay the night if you have room. Or, plan to bring your little ones on an overnight trip to someone else's home. The beauty of such a celebration is that the kids can go to sleep early and then the adults can ring in the New Year without having to worry about driving home.
How are you celebrating, or have you celebrated, New Year's Eve with the kids in tow? Share your tips below, and be sure to check out my full Frugal Shopper post, "7 Frugal Ways to Entertain Kids on Winter Break," especially if you're looking for ways to entertain your kids during the remainder of winter break.
Follow Hint Mama on Facebook and Twitter, and read more about her and her disclosures.