When the cookie decorating party I planned on bringing my 2-year-old daughter to last week was canceled, I didn't want to cross "decorating cookies" off of my tot's winter break activity list (with preschool closed for two weeks, I'm constantly trying to think of easy and engaging toddler-friendly activities). However, at the same time, I didn't want to spend a lot of time baking.
So, a light bulb went off when I read about how store-bought cookies can work just as well for cookie decorating as homemade ones (a hat tip to Cool Mom Picks for this great tip).
Inspired, I picked up some Kedem Tea Biscuits (they somewhat resemble sugar cookies and are relatively healthy) at the grocery store. I figured my daughter and I would decorate the biscuits with the cookie icing I had at home. The only problem: After I had brought the cookies out for my daughter to decorate, I realized that though I did have rainbow sprinkles in our cabinet, I didn't actually have any icing or ingredients to make traditional icing. And I didn't want to run out to the store or cancel our activity.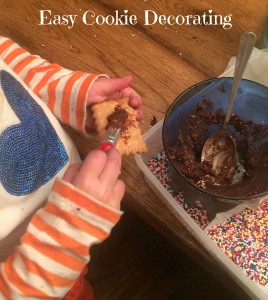 Luckily, I quickly hit on a strategy for easy cookie decorating that is today's hint: I used homemade melted chocolate as icing.
While we didn't have any actual icing left in our house, we did have lots of chocolate (Halloween was only a couple months ago after all).
So, here's what I did: I heated a Chocolove raspberry dark chocolate bar in the microwave until it melted (total cook time: about two minutes or so). Then, voilà, I had created chocolate "icing" that was easy for a toddler to brush (with a little kitchen brush) onto a cookie and onto which colored sprinkles stuck nicely.
Of course, I'm not the first person to discover this trick, as I realized during an Internet search when I was writing this hint. You also don't necessarily need the same sort of chocolate bar I had to try out this approach – any chocolate should do (though skip chocolate chips, recommends Alice Medrich over at Food52).
Also, keep in mind that chocolate isn't a perfect icing substitute. For one thing, melted chocolate is a bit more dangerous. It was pretty hot when I took it out of the microwave; however, I didn't want the chocolate to cool and harden too much before my daughter and I began decorating, because we needed to spread it onto the cookies. So, I had to supervise my daughter closely while we did the decorating to make sure she didn't touch the hot molten chocolate directly (if only I had realized a plastic bag works great for drizzling the chocolate, as suggested over at CraftyBaking.com and Tikkido.com).
Still, if you're looking for easy, cheap and relatively healthy ways to entertain your child this winter break or anytime of the year, you may want to consider the above approach to cookie decorating — no baking or icing required. In fact, you don't even need cookies per say.
In addition to making chocolate-covered cookies, my daughter and I also "painted" chocolate and sprinkles onto the tips of pretzel rods we had around the house. For more on holiday cookies, check out this hint on how to make cookie recipes a bit healthier.
What are your tips for simplifying cookie decorating? What about for entertaining little ones during winer break?
Follow Hint Mama on Facebook and Twitter, and read more about her and her disclosures.