Though the holidays are here already, there's a good chance you probably still have lots of to-dos on your list, from sending greeting cards and giving holiday tips to wrapping last-minute gifts and gathering together kid-friendly winter break activities.
If that's the case, you're in luck. For today's hint, I've rounded up some of my most popular holiday hints in hopes of making your winter break go a bit more smoothly. And as a bonus, I've also thrown in some clever holiday tips from around the Web. So, grab some eggnog and a cookie, sit back and enjoy the reading material below. Happy Holidays.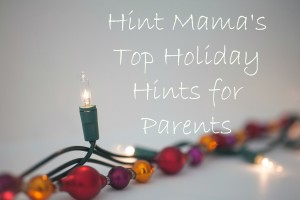 Last-minute gift help:
Keep your little ones safe:
Holiday "thank you" inspiration:
Easy ways to entertain the kids:
Save on holiday cards:
Be merry for less:
Holiday link love:
For even more help this holiday season, check out all my holiday hints here. What's your best holiday-season hint for parents? Share it below.
Follow Hint Mama on Facebook and Twitter, and read more about her and her disclosures.