Note from Hint Mama: Thanks to Safeway for sponsoring this post. I only write sponsored posts about services and products I truly recommend and that I'd be writing a hint about anyway.
My family has a secret. We make a really good party dip that friends and family refer to as "the good dip," and it's super simple to make.
So, just in time for your holiday and New Year's celebrations, and to help you easily prepare for college bowl- and Super bowl-watching season, today's hint is my family's secret dip recipe.
Just how easy is this dip to make? Well, there are only two necessary ingredients: cream cheese and salsa. There's also one optional ingredient: shredded cheese.
And to make the dip for less, store brand products like those from Safeway's Lucerne Dairy Farms extensive line of dairy products work just as well as their more expensive counterparts. Safeway is giving away a $110 gift card to one lucky Hint Mama reader – details below.
Here's how I made the dip for a recent holiday party.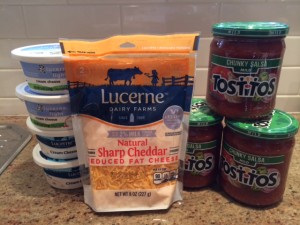 Prep time: About 5 minutes
Ready in: About 20 minutes
Serves: About 20
Ingredients:
Three 8 oz. packages of Lucerne Cream Cheese (You can substitute in light cream cheese for as many packages as you want. I used two regular cream cheese packages, and one light one.)
Three-quarters of an 8 oz. bag of Lucerne 2% Milk Natural Sharp Cheddar Cheese
Two jars of Tostitos Mild Chunky Salsa (you can use any brand of salsa, though I find the Tostitos brand works great.)
 Directions:
Mix the cream cheese and salsa together in an oven-safe dish until you have a pinkish color mixture with just a few white cream cheese chunks showing (see how the mixture should look in the image to the right). Note: To make more dip than I did, you simply add more cream cheese and salsa as needed. I always buy a bit more cream cheese and salsa than I think I need just in case.
Optional: Sprinkle shredded cheese on top of cream cheese-salsa mixture (see the image to the right). Note: The shredded cheese layer is optional. The dip tastes delicious without it as well.

Bake the dip at 350 degrees until the shredded cheese is melted and the dip is warm, generally 10 to 15 minutes or so depending on how much dip you are making. Serve with chips (and or vegetables for a healthier take).
As usual, the dip was a hit and was mostly gone by the time I left the party.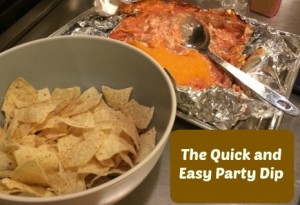 What's your easy go-to party dip? And if you make this five-minute party dip, let me know what you think of the recipe.
Share your recipes and thoughts below, and be sure to enter to win a $110 Safeway gift card so you can make this frugal dip for even less. Did you know the Lucerne line, which recently got a makeover and has a Pinterest board, has been around for 110 years and offers limited-edition holiday items like a peppermint whipped topping?
This is a sponsored post written by Hint Mama about my real experience with Safeway's Lucerne Dairy Farms products and all opinions expressed are my own. Follow Hint Mama on Facebook and Twitter, and read more about me and my disclosures.