Let's face it: A parent driving solo with kids in the back seat is helpless. It's very hard to effectively intervene when it comes to crying, squabbles or messes. And no matter how diligent you may be, there will be messes (and crying, and squabbles. . .). I've tried off and on to ban food from the car completely, but I always crumble – or am sneakily overruled by my husband and kids.
Today's hint is a way to prevent – or at least more easily manage – those spills and crumbs: Cover your back seat with a non-slip bath rug. Ideally, these rugs are designed to be durable and absorbent, and the non-slip backing can help keep it in place while providing an additional barrier between spilled drinks and your upholstery.
This hack is courtesy of my mom, Ellen (thanks, mom!). Four years ago, after observing the disaster that was my car back seat, she found a long, rectangular, relatively thin bathroom rug with a rubber non-slip backing (similar, I think, to this rug from Wamsutta at Bed, Bath & Beyond). She then sliced openings in it for the seatbelts, which helped hold it in place, and installed it across our car's gray fabric back seat. Our car seats (now booster seats) just sat on top.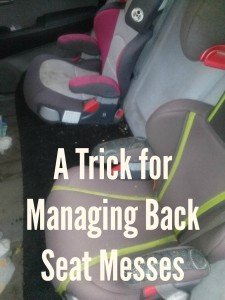 The rug needs to be thrown in the washing machine every so often, or after a major spill, but shaking it out is a lot easier than cleaning crumbs out of in-car upholstery. After several washings, that sucker is still back there, gobbling up spills. There are seat covers out there designed specifically for going under kids' car seats, but they can be expensive and/or may not provide full, across-the-seat coverage like I have with my hack.
Slip-resistant bath rugs also could be used other places to absorb spills (and prevent slipping), like kitchens, decks, steps and play spaces. In fact, bath rugs are just one of a slew of bathroom supplies that can be repurposed to help parents lessen mess-related stress. Stay tuned for more such keeping-it-clean hacks in a future hint, and be sure to check out a couple of other tips for cleaning kid messes in cars from my fellow Hint Mama contributor Susan Maccarelli.
What are your tips for keeping the car back seat (at least somewhat) clean?
Karen Witham is a mother of two children who she can't believe are already ages five and six. She spends her time on both sides of the Bay, working full-time as an editor and writer in San Francisco and living in Oakland. A transplant from the East Coast, she spent ten years living in Boston and also loves New York and most of all, Paris. Karen has a B.A. from Brown University and an M.A. from Emerson College. She blogs at Thoughtstream. Connect with her on Twitter at @kewitham or LinkedIn.
Follow Hint Mama on Facebook and Twitter, and read more about her and her disclosures.