'Tis the season for tips.
Now that the holidays are around the corner, it's that time of year again to show your appreciation to all the people who help you do it all parenting wise, from nannies and daycare providers to babysitters and teachers.
If you're like most parents, however, there's a good chance you're wondering just how much is appropriate to give to these various caregivers. Today's hint, holiday tipping tips from an etiquette expert, is here to help. According to Jacqueline Whitmore, founder of etiquette consulting firm The Protocol School of Palm Beach, here are appropriate amounts to give to your parenting helpers.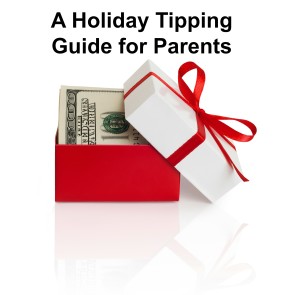 Nanny or au pair. For a live-in nanny, Ms. Whitmore recommends giving one or two week's pay, depending on how long the nanny has worked for you (a nanny that has been with you for multiple years would get two weeks pay), and a gift from your children. And as I wrote in a hint last year, one week's pay plus a small gift is also the the standard holiday gift for an urban nanny that doesn't live with you. Examples of appropriate small gifts include a gift card to iTunes or something handmade by your child.
Day care teachers. According to Ms. Whitmore, consider giving $20 to $70 to each teacher, plus a small gift from your child (every day care teacher that looks after your child should get at least $20, but one that primarily watches your child would get more). Also, make sure to check with the day care to see if there are any tipping guidelines specific to that facility.
School teacher. A gift certificate for up to $25 is an appropriate gift, says Ms. Whitmore. Or pitch in with other parents and buy a more expensive gift certificate.
Babysitter. A typical evening's pay, plus a small thoughtful gift from your child.
Do these figures scare you? Don't despair. Ms. Whitmore points out that "tips are appreciated, but not mandatory. If your budget is limited, opt for a small gift and a thank you note." If you can't give a tip or a gift, she says, "give a handwritten thank you note from the child." And make sure to give your thanks by December 25.
How do you show your appreciation for your childcare providers during the holiday season? What do you believe are appropriate tip amounts and why?
Follow Hint Mama on Facebook and Twitter, and read more about her and her disclosures.