For toddlers, there's just something about ride-ons and scooters.
By the time my daughter was a year and a half old, she was already eyeing other kids' ride-on toys and scooters with awe and beelining toward any left lying around at the playground. So, for my daughter's 2-year-old birthday, my husband and I had these products at the top of our birthday gift list.
However, given that these toys don't come cheap, I didn't want to spend money on two separate items, and I was worried about buying my daughter a present that she'd quickly outgrow.
This is why I was pleasantly surprised when I learned the tip that is today's hint: There are ride-on and scooter combination models on the market designed to grow with little ones as they mature from toddlers into preschoolers and young kids, saving parents money in the process.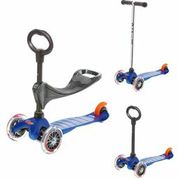 One great option: Micro Kickboard offers the Mini Micro 3in1, which can grow with kids from age 1 to 5. The $115 scooter transforms from a ride-on into a scooter with an easy-to-grip handlebar for young toddlers and then into the popular Mini Micro with a "T-Bar" handlebar design. Micro Kickobard is giving away a Mini Micro 3in1 to one lucky Hint Mama reader – details below.
To be sure, if your child is too old for a ride-on toy and can handle traditional scooter handlebars, then the convertible options may not be for you. In that case, it's probably more economical to opt for a scooter designed for 3 to 5 year olds, like Micro Kickboard's $75 to $80 Mini Micro Classic, a model Hint Mama contributor Eileen Gunn has found can come in handy when traveling.
But if a ride-on or scooter for a 1 or 2 year old is on your holiday gift list, you may want to consider investing in a convertible model, as I ultimately did.
What are your tips for buying scooters and ride-ons? Share your thoughts, and enter to win a Mini Micro 3in1, below.
Follow Hint Mama on Facebook and Twitter, and read more about her and her disclosures.