There are many aspects of parenthood that you have to learn through making mistakes (in fact, this describes pretty much all of parenthood).
One such aspect: Don't wash your baby's bibs with your white bed linens. I learned this the hard way when blueberry baby food ruined my wedding-gift Pottery Barn sheets, which ended up speckled in shades of blue.
After making similar mistakes, and ruining more of my laundry than I wish to admit, I stumbled upon today's hint, which is to utilize a bib hamper.
A bib hamper is not nearly as fancy as it sounds, and in my house, it has saved many a bed linen and article of clothing from getting ruined by sweet potatoes or strawberries.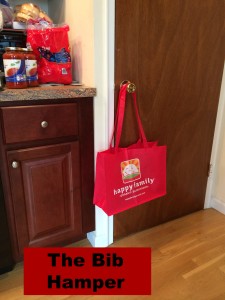 Here's how my bib hamper came to be: When I'm cooking in the kitchen, I often will dirty a kitchen towel. Before having a mobile baby, I would throw the dirty towels over to the corner of the kitchen by the steps to my basement, where my laundry machines are.
When my son became mobile, however, I wanted a way to keep him from getting the towels, which are often doused in raw meat or eggs.
I happened to have a fabric grocery bag — like the $1 ones you can get at the grocery store or free from a trade show – around. So, I started collecting dirty kitchen towels in that bag. When it came time to do laundry, I would take the bag of dirty towels down, and throw it and its contents in the wash.
After the bed-sheet debacle, how to save my linens came to me: I could simply throw dirty bibs in the bag with the dirty towels and do a wash of just those things. With this approach, I don't get food on any clothing or non-food related pieces of attire. And it doesn't matter to me how dirty the bibs or the towels get, or even if they get stained.
I keep my bag, otherwise known as "the bib hamper," in the corner of the kitchen. After meals, I throw my son's bib, or oversized t-shirt (my DIY bib – stay tuned for more on that in an upcoming hint), in the hamper, along with any towels I used to cook and clean that night.
I'm happy to report that since my revelation, there have been no ruined bed sheets, and I feel a lot cleaner keeping my food laundry separate from the rest of our laundry.
What are your tips for avoiding bib-laundry mishaps?
Hint Mama contributor Olivia Howell is a new mom living with her son, Weston, and husband on Long Island, who blogs about parenthood over at The Lovely Sisters. She is also a quilter, paleo cook, and loves rearranging her living room on Saturday nights. Follow her on Twitter, Instagram and Pinterest.
Follow Hint Mama on Facebook and Twitter, and read more about her and her disclosures.