One of the tried-and-true methods of potty training is to use some sort of chart, where you keep track of your little one's successes and reward him or her with a sticker for a job well done.
There's no shortage of fancy versions of such charts for sale online, and you also can find loads of free printable versions too. However, before you shell out money for a potty training chart or even spend time finding and printing out a free one, today's hint is a super easy and free chart to consider using instead.
This chart approach: Simply take any scrap piece of paper, tape it up by the potty and use that as the "potty chart" where you (or your child) place the reward stickers.
Don't think such a simple chart will work? Think again. While my husband and I were recently staying at the hospital with our new son, my 2-year-old daughter developed a desire to use the potty (I think the great Potette Plus regular toilet seats we recently bought helped, or it might have been the presence of her "grammy").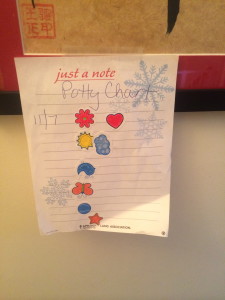 So, my mother, who raised four children, put her potty training chart method to work. First, she ripped off the free printable potty training chart I had put up a while ago that had entries for long past days of the week and that didn't seem to be serving as an incentive to my daughter. "With days of the week and dates, it was too complicated," my mom says. "Simplicity is best."
Then, my mom taped up a scrap of paper on which she wrote "Potty Chart" (see the images above and to the right) and where she placed the reward stickers my daughter picked out after each successful toilet attempt.
When I returned from the hospital, the chart already had at least six stickers, i.e. six potty jobs well done, double the stickers my chart had amassed in the months I had it up.
To be sure, as I mention above, the new Potette potty seat I bought probably had something to do with my daughter's new interest in the potty. My daughter also probably just simply became more ready to embark on potty training.
Still, I think my mom's easy, and very frugal, chart approach, which she used to successfully potty train all four of her kids, had something to do with my daughter's successes too. "Toddlers can't read, but they can count stickers," my mom says.
Plus, since any old plain piece of scrap paper works just fine, this easy chart is likely to last longer than the more elaborate expensive and free versions you can find online. Those charts generally come with a specific number of spots for stickers and or calendar grids and can quickly get used up or become out of date.
Looking for more DIY potty chart inspiration? I also like the similar blank-piece-of-paper approach I came across over at Repeat Crafter Me.
What potty training charts and approaches do you recommend?
Follow Hint Mama on Facebook and Twitter, and read more about her and her disclosures.