A few weeks ago when my daughter was taking a bath, she stood up in the tub to grab some of her bath toys and banged her head on the tub spout. While my 2 year old wasn't seriously hurt, she did start crying and that was the end of the bath that night.
Since then, however, my daughter's head hasn't met the faucet again. I don't believe this is just because she learned the hard way to keep her distance from the spout. Rather, I think today's hint for preventing bath time head bumps has more to do with it. The tip: Make sure you store bath toys on the side of the tub away from the faucet.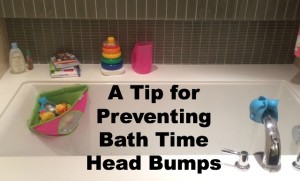 For us, this meant moving the Munchkin corner bath toy holder we had stupidly placed in the tub corner across from the spout. Based on my mom's smart tip, we moved the bath toy holder to a corner on the other side of the tub, as far away from the faucet as possible.
While we discourage my daughter from standing in the tub, she does stand up occasionally to take her toys in and out of the toy holder. Now that her bath toys are away from the spout, we've made it less likely she's going to bump into the faucet as she gets up to stand or sits down.
To be sure, there are other ways to protect little heads from tub spouts that you should also opt for, like spout covers (we now have this Skip Hop whale one covering our bath faucet). However, a simple step like moving where you store bath toys can help keep your little one's head safe too.
What are your tips for storing bath toys and for bath safety in general?
Follow Hint Mama on Facebook and Twitter, and read more about her and her disclosures.