This Halloween, I'll be very pregnant with number two. So, while my husband takes our 2-year-old daughter trick or treating around the neighborhood, I'm going to be the one back at home passing out Halloween candy.
We live on a street in San Francisco that gets a lot of Halloween traffic, and last year we ran out of Halloween candy before the doorbell stopped ringing. This year, while I'm going to be prepared with lots of cheap candy bought in bulk, it's possible our treat stash is again going to get depleted too soon.
And if this happens, I wouldn't be alone. According to the National Confectioners Association, roughly half of the general population is likely to run out of Halloween candy.
If we do run out of candy, instead of just turning out our front lights and ignoring the doorbells as we did last year once the candy was gone, I'm going to have a door sign (like the ones in the images above and below) ready to go, a strategy that is today's hint.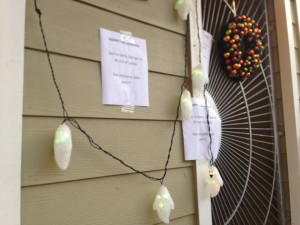 I came across this idea last November 1st when I was walking to work the morning after the Halloween festivities. The sign – or rather three such signs – were posted on a house close to mine (the same house with a wreath decoration that could work for Halloween and the holidays).
I thought the signs, which looked like they were created easily via computer and printer, were very clever, not to mention polite and neighborly. So, I stopped to take some pictures that I saved for today's hint.
To be sure, my neighbors aren't the first ones to create such a sign. And while I'll probably go for a simple Microsoft Word sign similar to my neighbors', you can find lots of ideas for more elaborate notices online.
Over at the blog McVay's Nest, for instance, you can find a how-to for creating a DIY "out of candy" wood sign that will last for years to come. There's also no shortage of free printable "out of treats" signs online, including this one over at Twirlie Whirlies, this one from Finding my Aloha and this one from blogger Local Girl. And for even more inspiration, check out many other options over at Pinterest.
Of course, there are other methods you can employ instead to let trick or treaters know you're out of candy, like passing out pennies, leaving an empty bowl outside or simply not answering the door.
However, I like how the easy-to-make "no more candy" signs are polite while also being easy to make and budget-friendly (you won't need to resort to passing out your spare change, which trick or treaters probably don't want anyway).
What do you do when you run out of Halloween candy? What are your last minute Halloween tips?
Follow Hint Mama on Facebook and Twitter, and read more about her and her disclosures.