Recently when I was walking around my neighborhood, I was surprised to see that a nearby home already has a wreath up on its door.
But then I did a double take: The wreath actually works as both a Halloween and a holiday season decoration. From afar, it just looks like a regular old Christmas wreath. Up close, though, you can see that it has orange balls with pumpkin faces mixed in – and my neighbors won't have to take it down if they don't want to come November 1.
This clever money-saving approach to Halloween décor and gear – go for festive items that you can use for multiple holidays – is today's hint. As I wrote in a recent U.S. News Money Frugal Shopper blog post on seven budget-friendly Halloween hacks, opting for décor that can work for both Halloween and the holiday season is a great way to cut the cost of Halloween decorations.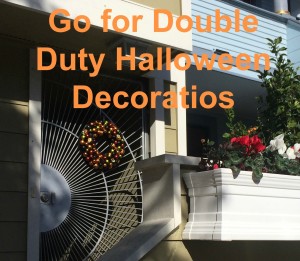 So what are some examples of such décor? Beyond fall-themed wreaths, white and orange Christmas lights could also do double duty for both holidays, as could basic reddish decorations (as Karen Cordaway smartly pointed out in another recent Frugal Shopper post) like the red wreaths Jessica Wellington of Family Fun Journal has used as decorations for Christmas, Halloween, Valentine's Day and the Fourth of July.
Small pumpkins, meanwhile, could become Christmas tree ornaments or Thanksgiving centerpieces, and extra candy can be turned into a cute Christmas decoration (check out The Mamas Girls site and Club Chica Circle for inspiration).
In addition, you also could consider repurposing festive items from other holidays into Halloween gear. For instance, you could use the same basic baskets for Easter and Halloween candy collection, or more elaborately repurpose Easter baskets into trick-or-treating buckets, as one woman commenting over at the Yahoo! News version of my Halloween hacks article did when her children were younger.
"We bought the (cheap) plastic Easter buckets with the design printed on them and would put them away after the holiday. As soon as my kids chose their Halloween costumes, we redecorated their old buckets with construction paper, paint, stickers, etc. to match the costume," she wrote.
Of course, if you don't celebrate holidays like Christmas and Easter, many of the strategies above won't help you. I'm still trying to think of ways to repurpose Halloween gear for Hanukkah and vice versa – let me know if you have any tips.
Share your tricks for repurposing, and repurposed, Halloween decorations and gear below.
Follow Hint Mama on Facebook and Twitter, and read more about her and her disclosures.