There's nothing worse than making a purchase and then quickly learning that you could have saved money with a smarter shopping strategy.
This happened to my husband and me last October, when we spent $18 on a pumpkin at a local pumpkin patch only to later see a similar-sized $7 pumpkin at our local Safeway.
In fact, such regret purchases are especially common during the Halloween season, when the average consumer shells out more than $75 preparing for October 31.
The good news, however, is that you don't have to make the same pumpkin-buying mistake I did, and there's still time to be a smart and frugal shopper when it comes to other Halloween purchases as well.
Today's hint — seven money-saving Halloween hacks that I recently covered over at U.S. News Money's The Frugal Shopper blog — can help.
The hacks in the piece include ones I've already covered here at Hint Mama, like being a smart pumpkin shopper and knowing how to dress up for less, as well as five other new tips, including the three below.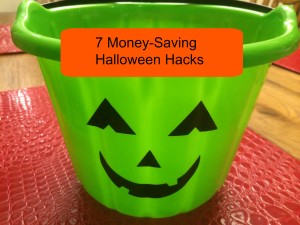 1. Go for free DIY candy collection containers. When my husband and I recently took our 2-year-old daughter to Party City to confirm that she was "okay" with reusing her costume from last year, she picked out a green pumpkin bucket for collecting Halloween candy and we bought it for her without thinking.
In retrospect, however, we should have skipped this purchase. We could have saved money by just giving our daughter an old pillowcase or bag from around our house to collect her candy in. And if you're crafty and or have time on your hands, you can also consider making a more elaborate trick-or-treat bag (I like this one featured over at Mom Spark).
2. Print out free decorations. According to the National Retail Federation, Americans are planning to spend $2 billion on Halloween decorations this year, with money going toward décor ranging from life-size ghosts to pumpkins.
But before you shell out money on such items, make sure to check out all the free printables available online. It's easy to find free Halloween banners, posters, signs and more, and all you'll have to pay for is the paper to print them on. Just search the Internet with terms like "free Halloween decorations printables" and a wealth of options come up. Some worth checking out include the nine free coloring pages featured over at Cool Mom Picks and free pop culture pumpkin carving printables from HalloweenCostumes.com.
3. Give out candy you don't like. I love this tip, which I came across at About.com. The gist is that by buying candy that you don't like, you'll be less likely to eat the candy before it's time to give it out to trick-or-treaters, ultimately saving yourself from having to buy more candy at the last minute to pass out. And along the same lines, since it shouldn't matter if you like the candy you'll be passing or not, make sure to opt for whatever sweets are on sale for the cheapest price when you're making your candy purchases.
You can read all seven hacks for celebrating Halloween for less in my full post, "7 Money-Saving Halloween Hacks," over at The Frugal Shopper blog, where I'm a contributor.
What money-saving Halloween hacks did I miss? Share your best tips below and over at The Frugal Shopper.
Follow Hint Mama on Facebook and Twitter, and read more about her and her disclosures.