When it comes to baby and toddler clothing, organizing and keeping track of it all can be overwhelming and confusing. Babies seem to grow out of new clothing before you can blink, and often toddlers and babies run through many outfits a day.
Between gifts, yard sale finds, and my own purchases, my 14-month-old son has more clothing than he will probably ever wear. And because he's just learning to feed himself, you can be sure we go through many outfits a day,
Being a busy mom, I quickly learned I had to get a handle on my son's wardrobe; otherwise there would be piles of dirty and clean clothing all over his small room. The four tips I now use to efficiently and easily keep his clothing organized make up today's hint.
1. Skip folding. The first thing I realized when I started organizing my baby's clothes was that they don't need to be folded. Ceasing folding has greatly shortened how long it takes me to do laundry. Combined with how I store the clothes (see the next tip), it has also made it easier for me to quickly grab a new shirt or pajamas. I no longer have to worry about messing up folded clothes.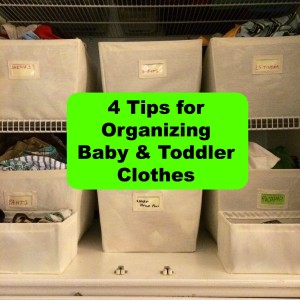 2. Have a dedicated container for each type of clothing. When I began my organizing project, I bought six fabric bins from Bed Bath & Beyond, and labeled each one with the title of one category of clothing (think pajamas, t-shirts, long sleeved t-shirts, jeans/khakis, sweatpants and onesies). These main categories have evolved since my son was born, as they used to include more onesies (short-sleeved and long-sleeved onesies were two separate categories), blankies and one-piece outfits. I also have a smaller fabric bin for socks and hats/mittens (in winter) in the wardrobe as well.
When I sort clean clothing from the laundry, all I do is make piles of these six groups, which makes it much easier to efficiently get through the clean laundry basket. Then, I simply take each pile and throw it into the correct bin.
Now, I have a built in shelving system in my son's nursery closest that holds my bins perfectly. But my bin system could be adapted to any simple storage unit. For instance, you could have a drawer in a dresser or a closet shelf dedicated to each clothing category or two.
My system could also easily work for girl clothing too. For example, you could have bins for leggings, t-shirts, long sleeved shirts, cotton dresses/skirts, jeans and pajamas.
3. Keep frequency of use in mind. I try to keep the clothing we use most in bins on the most accessible shelf, the bottom one, of my son's closet, making these items easy to grab from the changing table during a diaper change or after a bath (the bottom shelf contains bins for sweatpants, t-shirts and pajamas).
4. Have extra storage for too-big and too-small clothes. I also make sure there is extra storage in the nursery for clothing that's either too big or too small. I keep the next-size-up clothing in the top drawer of my son's dresser, as well as in a bin at the top of his closet. If I find something is too small, I stick it in a tote bag near the closet. I periodically go through this bag, packing away clothes for storage. Hint Mama herself is also a fan of this tip – she has two plastic drawers in her 2-year-old daughter's closet devoted to storing too-small clothes and one devoted to too-big outfits.
To be clear, not all of my son's clothing is stored in bins; I hang button-down shirts, jackets and sweaters in his closest. Similarly, when it comes to girl clothes, like my son's more formal attire, any dresses that wrinkle could be hung in the closet. In addition, I don't mind having extra clothing for my son, as I also keep a surplus of outfits at grandma's house, in the diaper bag and in the car.
But for most of my son's wardrobe, the tips above are great for keeping clothing organized, clean and ready to go. In short, keeping baby and toddler clothing organized efficiently is possible, as long as you plan ahead and keep your approach simple.
What do you think of my tips? What are your strategies for keeping baby, toddler and kid clothes organized?
Hint Mama contributor Olivia Howell is a new mom living with her son, Weston, and husband on Long Island, who blogs about parenthood over at The Lovely Sisters. She is also a quilter, paleo cook, and loves rearranging her living room on Saturday nights. Follow her on Twitter, Instagram and Pinterest.
Follow Hint Mama on Facebook and Twitter, and read more about her and her disclosures.