I'm nine months pregnant and just like during my first pregnancy, I've barely bought any maternity clothes.
How is this possible? I've employed three tricks for cutting the cost of maternity wear that make up today's hint, all of which I recently alluded to over at Well Rounded NY in a "Bump Envy" feature on my fashionably frugal maternity style.
1. Accept – and ask for – hand-me-downs. During my first pregnancy, whenever any friends offered me their old maternity clothes, I was happy to oblige and take the too-big wear off their hands.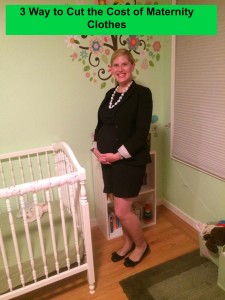 Accordingly, I was lucky enough to receive about a trash bag full of big styles during my first pregnancy, and while all of them may not have been my pre-pregnancy style or what I would have picked out for myself, beggars can't be choosers.
No one offering up old pregnancy wear to you? Don't be ashamed to ask friends, especially those who you know don't plan to have any more kids, if they have any hand-me-downs to spare.
2. Raid your closet for pre-pregnancy clothes that fit over your bump. If you have a lot of cowl neck shirts and boxy, wrap, loose or empire-waist dresses, there's a good chance they'll fit over your growing tummy. At least, I've found that to be the case.
To be sure, my bump makes the dresses a bit shorter than they'd otherwise be, but a bit of leg showing is worth not having to buy new dresses. In addition, my regular jeans lasted well into my first trimester both times around thanks to my hair-band trick for wearing my regular jeans during pregnancy.
3. Go for maternity wear that you can wear after baby arrives. In other words, when you do need to buy new maternity wear, look for options that you'll still be able to wear after your bump disappears. I made an effort to only buy such looks during my first pregnancy, and they turned out to be just as flattering post-baby weight as they were before birth.
You can read more about my pregnancy style, including my picks for maternity wear and non-maternity wear that look great over a bump, in the "Bump Envy" post, "5 Qs with Jenny," over at Well Rounded NY.
What are your favorite ways to cut the cost of maternity wear?
Follow Hint Mama on Facebook and Twitter, and read more about her and her disclosures.