Most of the advice for encouraging kids to develop a love of reading is pretty common sense. Read to them. Take them to libraries, bookstores and story times. Keep books in the house. Let them see you reading. Talk about what they are reading, at home and at school. Let them select books that they like, not just ones you think they should read.
Today's hint for raising a reader goes beyond the book. My tip? Embrace music, not only for the joy of music itself, but also for the proven role it can play in developing literacy.
Hearing music, singing, playing instruments, and moving their bodies to music helps kids kinetically connect to words, rhymes and the rhythms of speech (here's a great scholarly overview of this subject from the Las Vegas Philharmonic). Plato puts it best: "Music gives a soul to the universe, wings to the mind, flight to the imagination, and life to everything."
So, if you like the idea of using music to help raise a reader, here are three affordable ways to easily incorporate music into your daily life.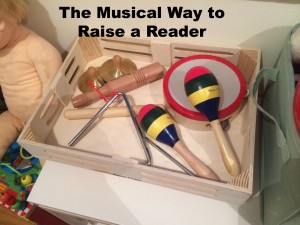 1. Make music: Having your child learn how to play an instrument is great if you have the resources and your tot is old enough. You can also enroll little ones of all ages, even babies, in music playgroup classes like Music Together or Musikgarten. While these classes aren't cheap, there are ways to cut their costs, including making use of free trial sessions.
However, you don't need to pay for classes to teach your child to be musical. You can still have a huge impact simply by playing music at home and in the car, singing with your kids and encouraging them to use simple instruments. You can make your own instruments or buy some relatively inexpensive ones — the Melissa & Doug "Band in a Box" is one of our family favorites, and it's a hit in Hint Mama's home as well. And if you or someone close to you plays an instrument and can regularly share live music with the kids, this is a wonderful free option too.
2. Explore kids' music: It's great to introduce your kids to the music you love, whether it's Bach, The Beatles, or The Bangles. But music made just for kids should be a part of your rotation.
There are the tried-and-true classics that are simply an integral part of an American childhood, and certain kids' songs can actually help little ones develop both musical and literacy skills. In fact, if you visit the Oneota Reading Journal and scroll about halfway down the page, there is a helpful chart that aligns children's songs with certain reading skills. You can hear most of the songs on this list for free on Pandora kids' stations (Caspar Babypants is a favorite station of Hint Mama's 2 year old) as well as on the Comcast music stations.
But if you want to invest in some inexpensive tunes, check out Common Sense Media's take on the best music for kids, Time Out New York Kids' contemporary take on the "25 best bands for kids" and Zooglobble, whose tagline is, "Kids' Music Worth Sharing!" Finally, if you ask friends for recommendations and do a little digging, you can definitely find songs and musicians that the whole family can enjoy.
3. Bring music to life: Lastly, make a point to identify local kid-friendly musicians and attend their performances. We have several here in the San Francisco Bay area, and nationally known musicians include Elizabeth Mitchell, Dan Zanes, and of course, Raffi. But you don't necessarily have to shell out money on expensive concert tickets — if you do some research, it's possible to find free shows featuring kid-friendly performers – often they'll stop by library story times, farmer's and flea markets, and street fairs.
If you're looking for more information on the benefits of music, music educator Maryann (Mar.) Harman has several music downloads and interesting links over at her blog Mar.'s Music Notes. My children and I went to her inexpensive weekly music playgroup when we lived in Florida and she totally captivated the kids with her enthusiasm. She taught us that it's okay to act silly and sing, even if off-key. I'd argue that not only is it okay, it's necessary.
How does your family incorporate music into your life? Do you have any favorite kids' musicians, or apps that bring music to life for kids? Please share your tips and recommendations below.
Karen Witham is a mother of two children who she can't believe are already ages five and six. She spends her time on both sides of the Bay, working full-time as an editor and writer in San Francisco and living in Oakland. A transplant from the East Coast, she spent ten years living in Boston and also loves New York and most of all, Paris. Karen has a B.A. from Brown University and an M.A. from Emerson College. She blogs at Thoughtstream. Connect with her on Twitter at @kewitham or LinkedIn.
Follow Hint Mama on Facebook and Twitter, and read more about her and her disclosures.