Next time you pop into the local grocery store to pick up a few items while you're strolling your child around the neighborhood, don't even try managing a grocery basket and the stroller.
Instead, try out the trick that is today's hint: Use your stroller as your grocery basket. If you have a stroller basket, just simply pile the items you need onto the bottom of your stroller, and then pull them out at checkout. And if your stroller doesn't have a basket, you can just attach a reusable shopping bag to your stroller handles and throw the items in there, or pile the items you need right alongside your little one, assuming there's room.
The stroller basket as grocery basket was my tactic of choice many times when I was a rookie mom home on maternity leave without a car. I was always looking for activities that could get my baby daughter and me out of the house and enable me to check tasks off my to-do list.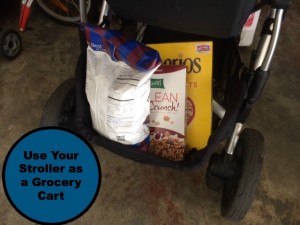 I spent a lot of time walking and jogging around my neighborhood with a stroller in tow, and often, my activity destination was a local grocery store (the Rookie Moms Challenge #5), where I'd throw whatever few items we needed into the stroller basket alongside my diaper bag.
The tactic, however, doesn't just work great for new moms. It's also handy for those carting around two kids. A mom on a local mommy message board I read, for instance, recently wrote: "I always used my Vista basket for shopping. No one ever said a thing. Seemed impossible to push a cart or carry a basket while also pushing a large stroller with two kids!"
In other words, add grocery basket to the list of what strollers can double as (they also make great high chairs and travel gear holders), and I'm not the only fan of this trick. Parents commenting over at WindsorPeak.com also suggest trying it out, as does the site What to Expect, and Hint Mama contributor Olivia Howell has done it too.
To be sure, using a stroller as a grocery cart of sorts is easier to do with certain stroller models that have bigger baskets (like the Uppababy Vista, Uppababy Cruz, and Baby Jogger City Select models, for instance). And it's probably most useful for urban parents who frequent the local supermarket sans car and for parents whose kids are too young to ride in grocery carts.
In addition, as a stroller filled with your child (or children), grocery items and all the other on-the-go baby gear you may have is going to be heavy and hard to push around, the trick may not be the right option if you're going to be buying a lot of products. Online grocery shopping may be the better option in such scenarios.
I found the trick most useful when I just needed to make a few purchases, though some moms claim it works great for bigger grocery hauls too if you leave the diaper bag at home or in the car and go into the store with an empty stroller basket.
It's also worth mentioning that there are other related solutions you can employ, such as hooking a grocery basket to your stroller handles, as blogger Terry Caliendo does with some hooks he bought at a local hardware store. Some stroller hooks on the market, such as the Mommy Hook, may also be useful for this purpose (or for attaching grocery bags to your stroller).
Finally, if you're worried about stores thinking you're stealing, don't be that concerned, assuming you can remember to pay for everything that's in the basket. No one ever said anything to me about not using my stroller to collect groceries, though you may want to be on the lookout for any signs warning you against loading products anywhere but into the store's carts and baskets.
What are your tips for managing grocery shopping with kids?
Follow Hint Mama on Facebook and Twitter, and read more about her and her disclosures.