While I put much thought into most of the baby and toddler gear we have around our house, I didn't do the same when it came to potty training potties.
Instead, well before my daughter was ready for potty training, I snapped up a little potty at Ikea for our downstairs bathroom and living room because it was cute looking and cheap.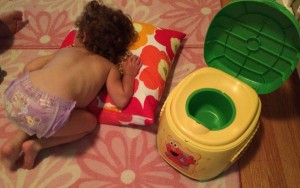 Then, more recently, as we've begun slowly embarking on potty training our 2-year-old daughter and she's got the Pull-Ups to prove it, I picked out a potty for her to have upstairs in our home, and I chose t it simply because it has Sesame Street characters on it and my daughter loves that show.
Potty training, however, is off to a slow start in our home, and I wonder if part of this has to do with the potties we purchased. In retrospect, I wish I had gone for a potty or two with certain characteristics that I've since learned can help the potty training process along.
The gist of the characteristics is that they empower little ones, and instill confidence in them that they can master the potty task. When you're in the market for a potty, "it's all about independence," according to the experts at the Pull-Ups Big Kid Academy, a great resource for tips on a host of potty training topics (and for coupons too).
So, if potty training is in process at your house or will eventually be on your to-do list, today's hint is to skip going down the impulse potty purchase route like I did, and instead to get a training potty that has these independence-inspiring features.
1. Handles. As a spokeswoman for Fisher-Price told me, toddlers are like the elderly, in that they often need support to sit and stand. Thus, to make getting on and off the potty easier for your little one, look for a model that has handles or some other kind of similar support. (Neither of my daughter's potties have this feature – perhaps that's the problem with them). The Fisher-Price Froggy Potty (recommended by the book Baby Bargains) is an affordable model with handles to consider.
2. Some kind of "reward" for a job well done. Sure, you'll be offering your tot stickers or M&M's for a job well done, but the potty can also help speed along the potty training process if it offers rewards too. What kind of rewards do I mean? Think a potty that flashes lights or makes flushing or other celebratory sounds like cheers and songs (the Fisher-Price Royal Stepstool Potty, for instance, senses your child's "success" and plays four tunes in response).
3. Resemblance to an adult potty. Experienced parents I know (like Hint Mama contributor Karen Witham) recommend going for potties that resemble adult toilets as much as possible. A potty that makes flushing sounds would be one such feature to look for, as would a more clinical design similar to that of an actual toilet (Munchkin's Arm & Hammer 3-in-1 Potty Seat is one example of a potty that looks like an adult toilet).
To be sure, some baby experts recommend skipping a floor potty model altogether and going instead for a step stool and a potty training insert that installs right on top of a regular adult toilet seat (also known as toilet adapters or toilet seat reducers). For now, though, I'm staying out of this debate, as I have yet to buy a seat insert.
And it's worth noting that, as pointed out over at the Pull-Ups Big Kid Academy, a floor potty can be "particularly good for children just starting out with potty training because they're extremely stable, easy to use and don't require any climbing or flushing."
In addition, there certainly are other features you may want to look for in a potty besides the ones that empower little ones. For instance, it's a good idea to look for a potty that is easier to clean (think no hidden crevices that need cleaning, says experienced mom Karen Witham). Plus, many potties on the market today have multi-stage designs, meaning they transform from floor potties into step stools and seat inserts. And perhaps most importantly, " don't be afraid to change potty seats if it isn't working out," as the experts over at the Pull-Ups Big Kid Academy note.
For more advice on what to look for in a potty – as well as potty training advice customized to your point in the potty training journey and a library full of potty training tips from parenting experts and medical professionals – enroll in the Pull-Ups Big Kid Academy. The Big Kid Academy is a free resource, and you even get access to great deals and discount offers after you sign up.
Which potties (or seat inserts) do you recommend and why? What do you suggest other parents look for in a potty?
Thanks to Pull-Ups for sponsoring today's hint.
Follow Hint Mama on Facebook and Twitter, and read more about her and her disclosures.