Babies do really grow fast. Just like everyone tells you, in a blink of an eye, your new bundle of joy will be sitting up and crawling, and then walking and talking.
This means your little one is likely to quickly go through lots of baby gear, especially if the products you carefully selected are only designed for a very limited time span of your child's life, straining your budget in the process. In fact, according to the book Baby Bargains, my go-to baby product review resource, parents will spend $7,385 on average on first-year baby gear.
The good news, however, is that there are many ways to bring down this figure, including a tip I share in a post over at U.S. News Money's The Frugal Shopper blog. The trick, which is today's hint, is to go for baby gear items that can grow with your child, transforming from products appropriate for babies to those appropriate for toddlers and even older kids.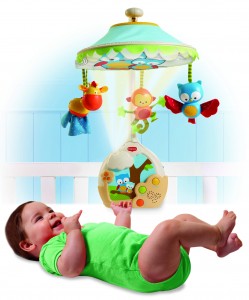 It's now increasingly possible to find this sort of multi-stage, multi-function gear, as more and more baby gear manufacturers roll out convertible products (and as I mentioned in a previous hint, multi-stage gear was one of the major trends at the recent big baby gear industry ABC Kids Expo trade show in Las Vegas).
The convertible gear is popping up in most major baby gear categories, from car seats and cribs to mealtime seating and mobiles (see Tiny Love's mobile that transforms into a lamp, for instance, in the images above and to the left).
The trend is also cropping up in some seemingly unlikely spots, like toilet training and nursing product categories. For example, a number of companies are coming out with nursing cover designs that work as much more than breastfeeding accessories. Itzy Ritzy, for instance, sells $25 nursing covers that double as infinity scarves, while the PunkinWrap nursing cover ($48 with some accessories) is designed to also work as a blanket, portable changing pad and toddler yoga mat, among other functions.
You can read about a number of convertible product options (including ones I haven't yet covered here at Hint Mama), as well get my take on when to consider such products, in my full post, "How to Save on Baby Products," at The Frugal Shopper blog.
Would you buy convertible baby gear – why or why not? What's your favorite multi-stage baby product?
Follow Hint Mama on Facebook and Twitter, and read more about her and her disclosures.