Note from Hint Mama: Our cable bill costs us anywhere from $170 to $200 a month, so my husband are seriously considering cutting the cable TV cord as we look for ways to save money. However, we're wary of missing out on our favorite shows.  Just in time for us and others contemplating the same cable divorce, Hint Mama contributor Susan Maccarelli shares in today's hint how she and her family survive without cable TV and without sacrificing watching their favorite shows. 
My husband and I recently got rid of cable, and no, we're not one of those "no TV EVER" families. We were actually very frequent cable television watchers.
Don't get me wrong, I still love watching TV. In fact, at first, I was very resistant to the idea of scrapping our cable. But around the time we moved a few months ago, my husband and I were discussing ways to save money.  One of the ideas we came up with: trying to survive cable-free (gasp!).
Between the cable TV, DVR and all of the associated monthly fees, we were paying close to $1,000 per year for our cable TV access. The more I thought about it, I the more I realized that keeping up with all of my DVR'd shows was starting to become a chore, and the few shows I wasn't willing to give up were available to me in other less expensive ways. So far, our experiment has been a success, and today's hint is the three ways my family has learned to survive without cable TV.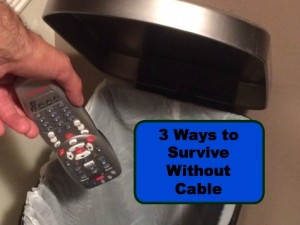 1. We stream television shows. Before we cut the cable cord, I was concerned that dropping cable would mean I wouldn't be able to watch my favorite shows like Scandal and Nashville. But it turns out that both are available (as are many shows) to stream from their network sites on the computer. Since I watch these alone, I'm happy watching them on my computer. I can also watch my beloved QVC live from their website any time (phew!).
I was also worried that the kids wouldn't have things to watch after being raised on Sprout and The Disney Channel.  But I've found that between YouTube and the instant video we get through our Amazon Prime subscription, there is plenty for the kids to watch.  Their favorites like Curious George, Blue Clues, Dora the Explorer, Team Umi Zoomi and lots more are all available through Amazon Instant Video.  We stream directly to our TV using our PlayStation, which has the Amazon app installed. Any newer Blu-Ray player, computer, Xbox or other similar device that allows you to install the Amazon app will work, so you can keep your big screen for viewing.  Some TVs even allow you to download apps now.
As for my husband and me, we like to binge watch our favorite TV series and enjoy discovering new ones.  We're currently in the middle of season 2 of The Sopranos through Amazon and are planning on True Detective after that (both through Amazon). We really wouldn't have time for cable even if we had it! If you don't have an Amazon Prime subscription, Netflix and Hulu are other options worth checking out depending on the types and recency of shows you want to watch. Granted, we no longer have the DVR and the pause and rewind-type features that go with watching these sorts of shows via cable television, but I really don't miss them anyway.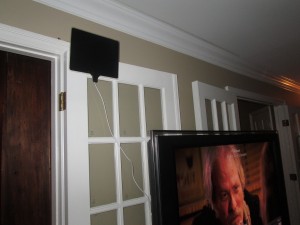 2. We use a good old (modern) antenna. I thought television antennas were bulky metal things on your roof that occasionally got hit by lightning, but I guess that hasn't been the case for a while.  My husband is an electronics nerd, and he purchased the Mohu Leaf Paper Thin Indoor HDTV Antennae.  It's super flat, pretty small, attaches to the TV with a coax cable. and enables us to get the local network channels.  As long as you are relatively close to a signal and not super rural, this is a good option. Honestly, we rarely use it, but it's nice to have the option. If you have a TiVo or separate DVR box, you could always put the antennae through that and have DVR functionality.
3. We spend time on other things. The last way we live without cable TV is to spend time doing other things.  As I mentioned, we're no longer slaves to a DVR library filled with shows in need of watching.  Instead, we fill a lot of the time we used to spend watching TV with family walks, puzzles (we have a permanent table set up just for jigsaw-ing!), games, playing with the kids, art projects, movie nights (via DVDs or Amazon Instant Video), hanging out outside, and yes, on our various electronic devices (we didn't give up Internet!).
Today, we're spending much less than $1,000 yearly. Now, our Amazon Prime subscription (currently $99 a year) covers our streaming for a year (plus you get free two-day shipping on your Amazon Prime orders — this more than pays for the annual cost for us). Our antenna was about $40.
But all in all, going cable free was a huge savings to us, especially considering that no one in my family misses cable or the cable bill.
What are your tips for surviving without cable?
Susan Maccarelli, a mom to two toddlers, is a temporarily-retired sales and account management professional who has been a stay at home mom since 2010. She helps other bloggers get featured on the websites they aspire to, via her blog resource site BeyondYourBlog.com, and she has a blog called Pecked To Death By Chickens, where she writes humorous stories about everything from her kids and husband to her not-so-closeted QVC addiction.  Her posts have been featured on BlogHer, Project Underblog, Blunt Moms, In the Powder Room and BonBon Break, and she is also the founder of the site Wooden Train Set Reviews and is working on a line of two-piece footie pajamas. Follow Susan on Facebook, Twitter and Google+. 
Follow Hint Mama on Facebook and Twitter, and read more about her and her disclosures.