I started Hint Mama shortly after my daughter turned 1, just weeks after I finally finished a year of nursing and pumping. On reflection, I probably was able to start blogging because with the pump put away in storage, I suddenly had a lot more free time.
At least some of this free time, though, is set to disappear soon when my second baby arrives and I'm back on the breastfeeding and pumping bandwagon, and also parenting a 2 year old, blogging and working full time.
Luckily, however, I've learned a number of hacks that should help make my pumping sessions more effective and less time consuming this time around. Today's hint is four such tricks.
1. Think warm. According to Gina Ciagne, a certified lactation consultant and senior director at Lansinoh, a warm breast lets out more milk. So, if you can warm up your breast (and the pump flanges on it) enough to simulate the warmth of a baby's mouth (think 98.6 degrees Fahrenheit), you may be able to increase your pumping output and efficiency. There are products on the market that can help you do this (such as Lansinoh's TheraPearl gel packs, which can be warmed up in the microwave and then placed on the pump flanges). Or, you could simply use a warm washcloth (though it's likely to drip a bit).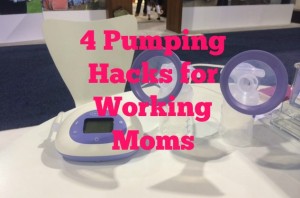 2. Know how frequently to pump. When I first returned to work, I was pumping three times a day during a typical eight-hour workday. However, a more experienced mom friend soon advised me to pump two times daily rather than three.
She said she had learned this trick from moms at her office who claimed they got about as much milk from two pumping sessions as from three. She told me this turned out to be true for her, and when I then switched to two pumping sessions, I too found that I generally got the same amount of milk regardless of whether I pumped two or three times a work day.
While I can't promise that this approach will work for everyone and I don't have any scientific reasons to justify it, it's at least worth trying, especially if you can work from home (or visit your baby in day care) at least a couple times during the week to help maintain your supply (I was able to do this), and if you can pump or feed your baby before you leave for work and right when you return home (I also did this).
3. Keep an extra set of pumping supplies at work. There's nothing worse than being at work and realizing you forgot a pumping part you need at home. When this happened to me, I would have to leave work and head home, wasting precious time. So, one way to avoid such situations is to keep an extra set of pump accessories at your office. Then, all you have to remember to bring with you to work pumping wise is your portable pump, assuming you don't have an actual hospital-grade pump at your workplace to use (I'm lucky that my office has such pumps) or an extra pump on hand at work.
4. Don't waste time between pumping sessions unnecessarily washing your pump supplies. Lactation consultants I've spoken with, including Ms. Ciagne and the lactation consultant at my pediatrician's office, say it's fine to throw your pumping parts in a Ziploc bag in the fridge after a pumping session and then use them, without a cleaning, for your next pumping session. If you're only pumping two times at work, this would mean you wouldn't have to wash your accessories until after you're done pumping for the workday.
Finally, be sure to check out my additional tips for making the cleaning of pump accessories easier. And if you're in the market for a pump, check out my take on the type of pump to get (think reusable portable ones, and it's worth noting that Lansinoh offers an affordable closed-system pump that should have been on my reusable pump list).
What hacks for making pumping easier and more time efficient would you add to this list?
Follow Hint Mama on Facebook and Twitter, and read more about her and her disclosures.