With more than 14,000 attendees and 3,500 exhibitor booths, the ABC Kids Expo is the premier trade show for the baby and toddler gear industry.
I was lucky enough to spend this past weekend at the Expo in Las Vegas, learning all about the latest and greatest in gear ranging from strollers to sippy cups. And as I dragged my pregnant belly up and down the show's many aisles and met with many gear companies, I spotted a number of new product trends that should hopefully help parents save money, time or effort.
Today's hint is the three baby gear trends from the ABC Expo I noticed that you want to know about.
1. Multi-stage baby gear. One big trend at the show: baby gear items that can grow with your child, transforming from products appropriate for babies to those appropriate for toddlers and even older kids. I saw the multi-stage, multi-function trend happening across all the major baby gear categories, from car seats to crib accessories. Here are just a few examples.
Earlier this year, Graco began offering a 4-in-1 car seat (the $299.99 4Ever All-in-1 Car Seat available at Babies "R" US) that transitions from a rear-facing infant seat into a forward-facing car seat and then into two different booster stages. Graco designed the seat so it can grow with children during the first ten years of their lives (or at least until they weigh 120 lbs).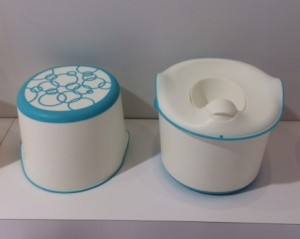 Elsewhere, for the last year or so, Tiny Love has offered a mobile that turns into a lamp when little ones outgrow the crib mobile phase, and new for 2015, the brand announced a Peek-A-Boo Mobile with a detachable part that can be used as a toddler music box floor toy after the mobile stage.
Meanwhile, in January, Ubbi (the brand that makes the diaper pail that works with any trash bag) will begin selling a $39.99 3-in-1 potty. The potty transforms into a cover that helps reduce the size of regular toilet seats and also into a small stool. In the infant seat category, Bumbo showed a $44.99 three-in-one product that transitions from a traditional Bumbo infant seat into a booster seat. It will be available on the market in January. Finally, Delta Children showed a 5-in-1 high chair (see this picture from Momtrends) that also works as a booster and floor seat, among other configurations.
To be sure, whether the products are worth the money for you will depend on how much you value and need what they transform into, and whether you're willing to stick with one product (say, one car seat) for the long haul.
2. Easier portability. Another common theme among the baby gear categories at the show: products that are more portable than their predecessors, so parents can more easily bring them from room to room and on trips outside the home.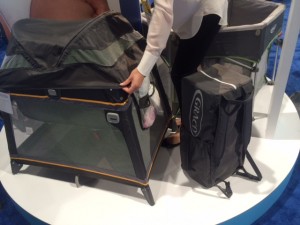 This trend was very evident across the baby gear universe, from inflatable play mat pillows to playard enhancements.
The travel bag for Graco's new Pack 'n Play Playard Jetsetter, for instance, comes with backpack straps, the first time Graco has offered backpack straps on its playard travel bags. Similarly, next summer, Chicco plans to release an upgraded playard whose travel bag will be a trolley bag (i.e. with wheels and a handle similar to the traditional carry on bag).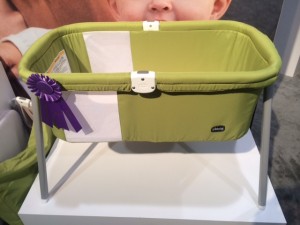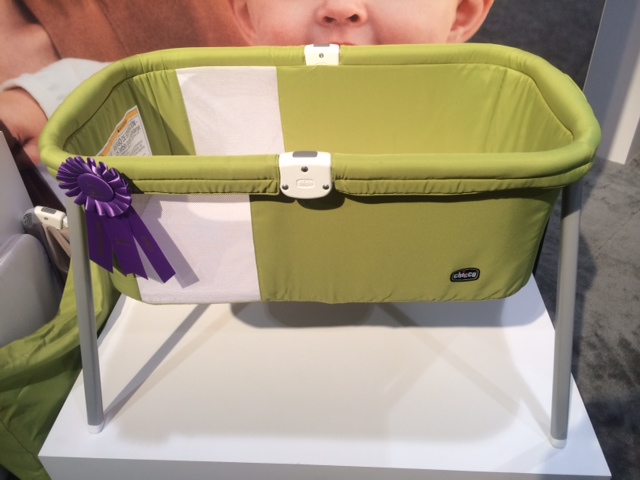 Meanwhile, a number of gear makers – including Chicco and KidCo – showcased new portable bassinets (think easier to move around the house if you're in the market for a bassinet).
Elsewhere, light travel cribs (with fewer features than their playard cousins) seem to be coming down in price. For instance, KidCo's new portable play crib retails at about $150. Finally, Fisher-Price showed off a new take-along swing, the $79.99 Deluxe Take-Along Swing & Seat, that folds flat and features a handle, making it the most portable swing the gear manufacturer has offered to date. Because it folds so well for storage, the swing, which will be on the market in January, also fits in with the next theme.
3. Space-saving gear. Many gear companies also announced new products that take up less space than previous editions, making them more worth the money for those whose homes don't have a lot of room to spare (think urban parents). In addition to the swing mentioned above, Fisher-Price also announced a new $69.99 foldable Jumperoo (the Woodland Friends SpaceSaver Jumperoo) that will be available in October and that makes me change my tune on the Jumperoo vs. Exersaucer question.
Of course, no baby gear companies offer trade-in policies, at least as far as I know (and I asked many of them). So those of us with homes already full of gear are out of luck unless we want to spend more money on upgrades. But the new trends are certainly good news for anyone in the market for baby products, and stay tuned in the coming months as I report many hints inspired by what I saw at the ABC Kids Expo.
What enhancements to baby gear products would you like to see and why?
Follow Hint Mama on Facebook and Twitter, and read more about her and her disclosures.