I wish I had the time to plan out elaborate activities for my tot, searching for fun projects online and then shopping for the materials required, so I have the projects ready to go at a moment's notice.
In reality, however, as my 2-year-old is about to throw a tantrum from boredom, I often find myself trying to think of activity and craft ideas on the fly that only require the materials we have easily accessible around the house.
But my mental repertoire for activities is limited, so I typically end up giving my daughter crayons and a sheet of tin foil or a cardboard box to play with and draw on, But there are only so many times my daughter can create a tin foil ball or sit in a box before she gets bored, so I've often thought about how useful it would be if there was an app or service that could allow me to quickly find age-appropriate craft project ideas that only require materials I have on hand.
Well, I recently learned that such apps exist, and they're today's hint.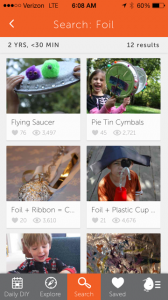 One such app: Kiwi Corner, available for iOS and Android. Earlier this year, craft box company Kiwi Crate released the new free app that parents can use to search 1500 project ideas using filters such as the materials you have on hand (you can search by any material), your child's age and the time you have available.
I recently searched for foil projects taking 30 minutes or less that are appropriate for 2 year olds, and immediately got tons of ideas I could implement right then and there using foil and other items in our house.
For instance, my daughter and I could make her a pirate hook using tin foil and the disposable plastic cups we have in our kitchen cabinet, or we could make a comet out of foil and the gift ribbons I've saved from past holiday and birthday seasons.
With a cardboard box, meanwhile, we could easily make a cash register, which I'm sure my daughter would love, or an easy puppet theater.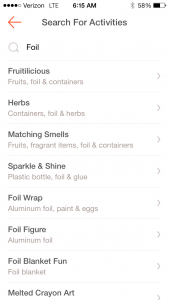 Elsewhere, with app Knoala, you can filter activities by certain materials needed, location (think indoor or outdoor), child's age range and activity type (artistic or cognitive, for instance). You also can just enter keywords to see what activities come up. When I entered "foil" and "cardboard boxes" in the search tool (both materials are not listed on the activity filter tool), a number of activity ideas came up, including creating foil figures and cardboard box houses.
To be sure, I'm not the only fan of these apps. The reviews for Kiwi Corner over at iTunes are pretty positive, and Cool Mom Tech recently featured it. Meanwhile, you can read more about Knoala over at Toddler Approved, weeSpring and Snap Happy Mom.
Of course, these apps aren't the only kids' activity idea resources on the market. At Disney's Spoonful.com, for instance, you can see various craft ideas for certain materials, like cotton balls and cardboard (start here).
You also can enter the materials you have on hand into the post search boxes on popular toddler and young kid activity and craft blogs, and see what activities come up, and some blogs – like No Time for Flash Cards and the Kids Activities Blog – let you filter activities by age appropriateness. Good old Google and Pinterest are also resources for quick searchers (here's what comes up when you enter "toddler foil projects" into Pinterest, for instance).
However, in terms of ease of use and the ability to filter activities at once via materials, age and time required, I didn't find anything during my quick search that resembles the two apps mentioned above.
How do you quickly find inspiration for kid crafts and activities that only require materials you have around the house? What apps and sites serving this niche did I miss?
Follow Hint Mama on Facebook and Twitter, and read more about her and her disclosures.