Note from Hint Mama: I'm always on the lookout for easy and affordable ways to entertain my toddler. So, I'm excited to try out the activity ideas below from new Hint Mama contributor Kaity Velez, one-half of the stylish mom duo over at Well Rounded NY.
Before we know it, summer days will be coming to a close, and those hours spent at the park will likely move indoors (for most of us, at least).
This, if you're anything like me, leaves you in a tiny bit of a panic. While I love spending time with my nearly 3-year-old toddler, I know that he's going to be looking for some entertainment once the playground is out of the question. And rather than spend loads of money on expensive pre-made activity sets, I like to create my own activities out of things around the house.
So I've scoured the web for the best toddler activities out there, and I've gathered together the seven age-appropriate DIY activities that make up today's hint. Note that affordability, originality and ease were a must when putting together this list.
Get crafty mama!
1. DIY Playdough. Play-Doh is one of my son's favorite things. And while the store-bought kind is pretty affordable, we're not always great about keeping it in its containers, so I'm often picking up dried little balls of Play-Doh around the house and wasting money in the process. This is why having the ingredients on hand to make our own inexpensive playdough at home is a lifesaver (and a penny saver). I love this bright and easy recipe from Instructables – you probably already have all the required ingredients on hand.
2. 3-in-1 Music Instrument. While I thought putting rice in a used bottle was crafty, this 3-in-1 music maker featured over at Minieco.co.uk is next-level fun.
3. Baby Sensory Board. This DIY sensory wall from Fun at Home with Kids is sure to keep your kiddos entertained for hours.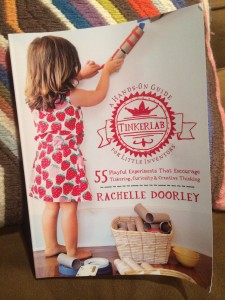 4. DIY Playhouses. These playhouses from A Beautiful Mess are so sweet that I can't believe they're made out of cardboard. A little more labor intensive than the other ideas in this roundup, but well worth the effort.
5. Button Jewelry. This is a fun and easy project that you and your littles can proudly sport once it's complete (note: Wait to do this one with your tot until he or she is past the age of eating buttons).
6. Sumo Wrestler Bowling Pins. This DIY from Hello M[ess] and Pink Stripey Socks literally had me laughing out loud. It's so creative and entertaining, and these Poland Spring Aqua Pod water bottles (if you can find them for sale) would be perfect for it.
7. Cupcake Liner. The genius at Tinkerlab, Rachelle Doorley, proves that all you really need is your imagination to create one-of-kind projects with your kids, and I especially love her cupcake liner challenge.
What's your favorite affordable and easy toddler activity? Share it, as well as your thoughts on my list, below.
Kaity Velez is the co-founder and editor of Well Rounded NY, a website dedicated to the in-the-know pregnant women and new moms of NYC. Currently residing in Brooklyn, Kaity is constantly inspired by her great city and the people in it. You can often track her down at her local pie shop writing, editing, meeting local creatives and trying not to eat too much pie.
Follow Hint Mama on Facebook and Twitter, and read more about her and her disclosures.