Note from Hint Mama: Every Wednesday is hint sharing day over at Hint Mama's Facebook page. One Wednesday earlier this month, Hint Mama contributor Karen Witham shared a hint that was so brilliant, I asked her to write it up into a hint. Check out her clever hint below, and share a recent hint – or ask for hints on a certain subject – over at Hint Mama's Facebook page.
The idea came to me about a year ago, when I was perusing the sale rack at Old Navy and saw some hideously (I thought) bright-yellowish/greenish kids' shirts on sale. The price was so low I talked myself into considering them.
When I saw both a boys' and girls' shirt side-by-side in my cart, something clicked: "These shirts would be great for making my kids highly visible in a crowd," I thought, hitting on a strategy for not losing your kids during travel and in crowded places. Voilà, today's hint.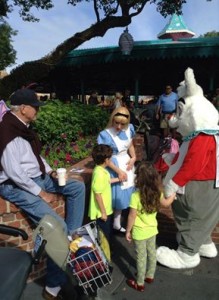 My trick: Dress your kids in bright, matching neon colors to spot them more easily in a crowd and help them spot each other. Bonus points if you wear the same color, too.
Back at Old Navy, I bought those shirts, and now, whenever I see size-appropriate neon colors on sale I snatch them up.
I dressed my kids in the Old Navy neon matching shirts on our flight last fall to visit my parents in Florida. We had to change planes, and the shirts kept my kids visible in the airport crowds. They also wore them on our trip to Disney World, where I was comforted by the idea that if my kids did get lost, the shirts would be an easy first description: think "two kids ages 4 and 6 in matching fluorescent lime green shirts."
Others also advocate dressing kids alike when in crowds. The BrickHouse Security Blog, for instance, offers six tips for not losing your child in a crowd, and dressing alike is one of them, and this Wiki page has similar tips.
Meanwhile, there are other things you can do as well to help keep tabs on your kids when many other people are around. If you are attending an event where the kids might be running around in the dark, consider reflective safety gear, whether you add reflective tape to existing clothing or buy these economical vests from Ikea. I stick the Ikea vests on my kids whenever we're camping, as they like to bike and scooter around the campground. Elsewhere, Frommer's has some great related ideas too.
Finally, it's also important to think about making yourself highly visible for your kids, too. I bought those same Ikea vests in adult sizes for my husband and myself, as I'm hoping we can all go to a camping music festival next year.
Along the same lines, when my kids were smaller, my husband bought some bright red Vans and told our kids to look for the red shoes if they got separated at a playground. And recently, on a visit to the Gap, I found a ladies' neon yellow t-shirt. I snapped it up so that mom, too, can match the kids and be highly visible in a crowd.
What tips did I miss? What are your tips for keeping track of your kids in crowds?
Karen Witham is a mother of two children who she can't believe are already ages five and six. She spends her time on both sides of the Bay, working full-time as an editor and writer in San Francisco and living in Oakland. A transplant from the East Coast, she spent ten years living in Boston and also loves New York and most of all, Paris. Karen has a B.A. from Brown University and an M.A. from Emerson College. She blogs at Thoughtstream. Connect with her on Twitter at @kewitham or LinkedIn.
Follow Hint Mama on Facebook and Twitter, and read more about her and her disclosures.
Photo credit: Karen Witham