If you've had a baby sometime during the last few years, there's a good chance you have lots of swaddling – or receiving – blankets around your house.
They're on most baby must-have lists, and people love to give them as gifts, probably because they're so useful for swaddling, as crib and stroller blankets, as DIY crib rail covers and as stroller sunshades.
However, before you give the blankets away simply because your children have graduated from swaddling, the crib and strollers, consider that there are a number of ways these baby products can be useful well past the baby stage. Today's hint is three surprising ways you can extend the useful life of the blankets – no sewing required.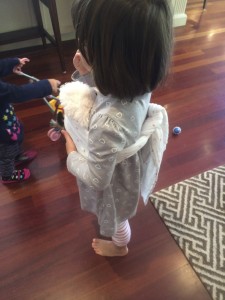 1. Use them as DIY doll carriers. Toddlers and preschoolers love emulating adults, so many little ones don't just want to cart their baby dolls and stuffed animals around in toy strollers. Instead, they also want to wear their toys in baby carriers like the ones they see mommy and daddy wear. In fact, a number of companies, including ErgoBaby and Pottery Barn Kids, sell small carriers designed just for dolls.
But before you shell out money on these special designs, try this DIY trick I learned from one of my friends: Transform an old swaddling blanket into a doll wrap by tying it around your toddler and his or her special toy friend. My friend first came across this trick when picking up her daughter at daycare a while back, where she saw all the little kids outfitted with their DIY blanket doll carriers. For inspiration on how to tie the blankets into carriers, you can see my friend's three-year-old daughter wearing her stuffed bear in an Aden + Anais swaddling blanket in the images in this post.
2. They make great beach cover ups. Swaddle blankets are actually the perfect size to serve as beach sarongs, a trick I learned from Libby of the blog Willy B Mum. Back in March, she shared on Twitter how she very cleverly used her Aden + Anais blanket as a sarong.
3. Use them as wall décor. A while back, I shared how to easily turn Marimekko fabric or other fabric scraps around your house into easy DIY wall art with the help of wooden fabric stretcher bars. Well, that approach is also perfect for turning old swaddling blankets into easy and frugal DIY wall art. In addition, for more on how to easily turn the old blankets into wall décor, check out the post "Upcycled Baby Blankets" from Anne at the Maker Girl. She used swaddling blankets – along with wood embroidery hoops and fabric trimmers — "to add some color to white walls."
What surprising uses for swaddling blankets did I miss? How have you used swaddling blankets after the crib and stroller stage? Share your thoughts below, and for more on how to upcycle other baby products, check out this hint on five ways to extend the useful life of onesies, this hint on how to repurpose bottle drying racks as well as this hint on five ways to upcycle old diaper caddies.