Note from Hint Mama: Don't have space in your home for a designated playroom? This hint below from Hint Mama contributor Olivia Howell is for you. In her third hint, Olivia, who blogs over at The Lovely Sisters and is the mom of a nearly 1-year-old son, shares how she created a small play space within her living room.
As my son got bigger, and more mobile, it quickly dawned on my husband and me that he needed a devoted area for playing with his toys.
However, we live in a small house, with an open plan living room/kitchen, and no designated playroom nor extra room to transform into a playroom. My son is happiest when he's playing in the same room we are in anyhow, so we took matters into our own hands.
How we created a fun and safe play space in a small area, that our son can use now and as he grows, is today's hint. I had fun creating and designing his "playroom," and the great thing is, anyone can easily cater my play space design to a small spot in their house, and to their home decor style, by following these three tips.
1. Set up a safe and stylish design using baby gates and a blanket. One of my main goals of the play space was to make a totally safe area; I needed to know I had a place to put my son in case I had a phone call, or you know, had to use the bathroom. Plus, my husband and I knew we needed to keep my son safely contained in some way, otherwise he's a hurricane of crawling and toddling around.
So, we settled on creating our design using North States Superyard Panels, and we bought the extension pack as well. Our living room has two couches and a coffee table, all facing the television, so we set up the play space (the "baby pen," as we affectionately call it) between the television and the coffee table. There's not much walking room in the living room now, but we didn't want our son right up against the television.
We liked the North States gates because they're very sturdy, easy to clean and can be configured in many ways. Plus, they're not too tall. When we, or any adults, step into the play area, we don't even use the door gate; we just step over the gates.
Once we got the gate set up the way we wanted, we found a Pottery Barn quilt we had received as a wedding gift, and threw it down on the floor. While a plush rug under the quilt might have worked better, the quilt is pretty soft and breaks any falls.
Plus, I love that the quilt, which has a log-cabin pattern, fits in with the theme of our home decor (modern country-rustic), and also has fun colors. My son loves to play with the little yarn pieces and trace the different fabric patterns with his fingers. I wanted the play space to look inviting and childlike, but since it's still in our living room, also sophisticated and clean. The quilt helps it do just that.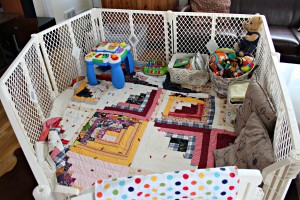 2. Fabric bins work great for toy organization. Crystal Sabalaske, Hint Mama's resident organizing queen, recommends storing toys in the rooms that you use them. My son never plays in his own room; all his playing is done in the living room or kitchen.
Therefore, I knew that all of his toys needed to fit into his small play space. Plus, since my son has a knack for finding the danger in even the safest objects, I knew I had to find the safest possible method for storing toys.
While my son has a beautiful antique wooden toy chest, there was no way I was going to use that in his play area. I went to Marshalls and Target and picked up fabric storage bins; I even let my son play with them in the store first to make sure he couldn't hurt himself on them.
I got one big bin for the majority of the toys, and two smaller bins, one for books and one for his toy food (see the bins in the images above). I love that my son can easily pull on, fall on, sit on, and stick his head in these bins, and they won't hurt him at all. The only other big toy we have in his area is a LeapFrog music table, which I got for $5 at a yard sale. I cleaned it off, and he loves to stand at it and play. While it's plastic, there are no hard edges, and even when he does fall on it, or flip it over, there's nothing sharp to hurt him.
3. Don't forget to create a comfortable spot for yourself. The part of the play space I love best is the comfy pillows my husband and I keep in there for ourselves.
Let's be honest, some days with a one year old can be very long. . . and so, when we jump into his baby pen to play with him, sometimes we just sit, lay back, and let him play around us. But more often than not, we're jingling bells, shaking maracas, and cutting wooden food with him from the comfort of our pillows.
To be sure, my son's play space may seem small to some of you. But though it's not a giant playroom, it has enough room for both my husband and I to comfortably sit and play with our son, and is roomy enough for our soon to practice walking.
Yes, we "lost" our living room, but by having this totally safe play area so close to where we spend most of our time, we have made our home even more useable and livable. I'm really happy with our design, and I know my son will continue to love having his own messy space as he gets older. Though, of course, we may eventually have to take down the baby gate.
What are your tips for setting up designated play areas in small spaces?
Olivia Howell is a new mom living with her son, Weston, and husband on Long Island, who blogs about parenthood over at The Lovely Sisters. She is also a quilter, paleo cook, and loves rearranging her living room on Saturday nights. Follow her on Twitter, Instagram and Pinterest.
Follow Hint Mama on Facebook and Twitter, and read more about her and her disclosures.