Until recently, I had never thought about how unsanitary the birthday wish tradition is.
But when a family friend pointed this out during my mother and 2-year-old daughter's birthday celebration (their birthdays are a day apart), I realized she was onto something.
Think about it – the birthday guest of honor blows out candles on his or her cake, potentially spitting right on the cake. In fact, a Clemson University study found a significant increase in bacteria in cake icing after candles were blown out. However, birthday wishes don't have to be this way.
The same family friend taught me a clever trick for making birthday wish candles a little less germy, a tip that is today's hint.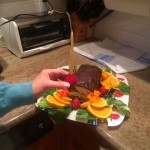 Her trick: She places a birthday candle in a strawberry that she strategically places next to the birthday cake she's bringing over to the guest of honor. Then, when it's time for the birthday boy or girl to make a wish, she lifts the strawberry up away from the cake and brings it up close to the guest of honor, so the candle can be blown out away from the cake. You can see this trick in action in the images to the left and above, and it could work with other types of fruit, or even smaller pastries, as well.
Don't think this trick is feasible at your family's birthday celebration? There are other simple ways to solve the same problem. Serving individual cupcakes instead of cake, for instance, and placing the candle or candles in the guest of honor's cupcake is an easy way to keep birthday wish germs contained. Australia's health department advocated this approach last year when it noted how germy traditional birthday cake candle wishes can be.
Or, here's another idea Anne Hart suggests over Examiner.com: You could have a small, individual cake just for the birthday boy or girl where the candle would go, and then have a larger cake for all the guests to enjoy. (Just make sure the individual cake is truly small, since larger so-called "smash cakes" can be a waste of money).
To be sure, strawberries, cupcakes and similar solutions likely won't hold more than one candle or two, so they're not great options if you want the birthday guest of honor to blow out a ton of candles.
If that's the case and you're concerned about germs, people have invented products to help you. The Slobber Stopper, for instance, "a collapsible, reusable and transparent cake cover," holds candles over a cake so the birthday blow out can happen slobber-free. Other inventions I came across to solve this problem include the Candle Blower and the Sanitary Wand, though I'm not sure if the products are on the market.
Of course, there is something to be said for exposing little ones to germs. Many doctors say some exposure to germs is a good thing and can help boost immune systems.
Still, even if you're not so concerned about germy birthday wishes, I thought my family's friend trick was just so smart, and it may be worth trying just for the wow factor.
What are your tricks for making birthday candle blow outs more sanitary? What are your birthday candle tricks in general?
Follow Hint Mama on Facebook and Twitter, and read more about her and her disclosures.