As I've mentioned before, arriving at a travel destination with your baby or toddler can be just as stressful as the time you spent in the air or the car.
Why? Well, there's a good chance the hotel, vacation rental or relative's home you're staying at isn't childproofed to your standards.
Luckily, there are simple steps you can take to make your home away from home a little more toddler- and parent-friendly, including today's hint for quickly creating DIY cabinet locks.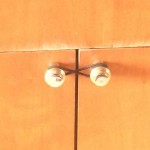 The trick, which I recently came up with to secure under-the-sink cabinets in a vacation rental: Wrap a hair tie around the cabinet handles to lock them closed (see the images above and to the left).
To be sure, hair ties are not a perfect replacement for regular old cabinet locks. For one thing, my trick really only works for cabinets with two handles close enough to be secured to each other with the hair tie.
In addition, there's always the chance an enterprising toddler (or baby) will figure out how to unravel the hair tie, which then could be a choking hazard.
Still, as the childproofing pros I know always point out, no childproofing trick is a replacement for adult supervision; so if this scenario did occur, you'd be watching and able to take the hair tie away from your little one.  In addition, there's a good chance you'll probably have a hair tie with you no matter where you go.
For us, the tie, which I simply took out of my hair, seemed to do the trick, and our 23-month-old daughter didn't try to open the cabinets.
It also turns out that this trick is a budget-friendly tactic for childproofing your own home, and I'm not the only fan of it. It has been covered over at MomDot and Autism Daddy, and moms over at What to Expect have shared the tactic as well. Elsewhere, Katy Rank Lev cleverly combined a hair tie with a carabineer to create an extra sturdy DIY cabinet lock.
Meanwhile, there are other related tricks you can try. For instance, the site The Frugal Baby and the site Wise Bread, have suggested using rubber bands in a similar fashion, and I shared some other frugal cabinet lock options last fall in a hint on seven frugal childproofing tips.
For more travel childproofing tactics, check out these five travel childproofing tips from a professional childproofer, as well as these five tips for visiting un-childproofed homes.
Finally, it's worth pointing out that hair ties don't just work great for pony tails and on-the-go childproofing; They also are an excellent and frugal way to make pre-pregnancy pants work during the early months of pregnancy.
What are your tips for childproofing travel destinations and for cheap childproofing? What other uses have you found for hair ties?
Follow Hint Mama on Facebook and Twitter, and read more about her and her disclosures.