Note from Hint Mama: Before my daughter turns 2 years old, we're taking her on a beach vacation (our "toddlermoon," if you will). So, I'm in the market for tips to help make the trip go as smoothly as possible and to help my daughter enjoy the sand and the surf. Luckily, I now have five great tips from family travel expert Eileen Gunn. Eileen, founder of vacation planning site FamiliesGo!, is a new Hint Mama contributor and her second hint is below (Read her first hint on kid-friendly travel snacks here).
Beach vacations and kids go together like sun and surf, but many parents are surprisingly nervous about taking little ones to the beach.
I grew up on Long Island beaches and was determined that my daughter would be a beach lover, too. The first time she dove headfirst into the sand, came up with a mouthful and didn't cry, I thought, "Yes!" and did a little fist pump.
Today's hint is my five best tips for making beach vacations with kids practical and fun.
1. The secret weapon tip. Here is the thing I never travel to the beach without: baby powder. It will get sand out of crevices the beach showers miss, and it's handy for de-sanding hands before you eat and feet before returning to the car, house or hotel room.
I have a small porous sack (similar to this Powder Pouch product) that brushes on the baby powder without the powder flying all over. You can improvise by filling a thin sock and tying a knot at the top. A small handful works fine, too. It's a little messier, but if you're outside anyway that doesn't matter too much.
2. The beach gear tip. It's very easy to turn into a Sherpa once you have a child, but we've learned to not carry anything we don't really need. If we have the car, we bring an umbrella to give us shade, to lure our child under for eating and drinking and to keep the cooler cool. If we've flown and the beach doesn't have a lot of shade, we skip bringing our umbrella, and instead make sure to take sun breaks, say by eating lunch inside, luring the kids to a shady spot with board games or reading time, or going to the kids club for an hour or two a day.
We also learned quickly to only carry one beach chair. Until your kids are old enough to swim and play by themselves only one of you will ever sit at a time.
If your child is the least bit active and curious, don't bother with one of those baby beach tents. My child would never have spent more then 30 seconds in a place where she couldn't see what was going on or move around to explore. If you're lucky, your baby or toddler might nap in one of these things. But the only way my child ever slept at the beach was if we popped her in a carrier and took a long walk.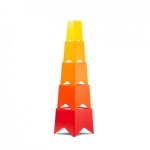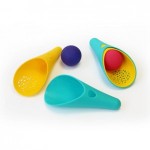 The car carries all sorts of pails and shovels, but if we fly we often count on buying cheap toys at our destination. When we were in Mexico when my daughter was 2, we never even bothered buying toys because every time we walked on the beach some child in need of a playmate would hand her a shovel. This borrow-a-toy strategy isn't one to bank on, but it shows that winging it can work out. If you want to pack toys look for compact stackables like these Ikea cups or these handy sets (see them in the photos above) from Kid O and Quut.
3. The beachwear tip. I am a die-hard believer in rash guards, those bathing suit tops that look like t-shirts. They protect shoulders and backs — prime sunburn spots — so I can worry less about trying to keep my daughter under the umbrella (ha!) or reapplying sunscreen all day long.
When my daughter was younger, I was also a fan of sun hats that strapped on for as long as my child would put up with them. If the hats don't attach, either the wind or your child will remove them constantly (Note from Hint Mama: I like the Sunday Afternoons strap-on styles).
4. The sunscreen tip. I'm a huge fan of natural sunscreens. They are better for a little one's skin and I think they protect better too. A stick like California Baby's makes it easy to cover a small face without anything getting in eyes. I like Episencial, All Terrain and Badger because they're natural and water resistant, a hard-to-find combo (Badger is a little oily, but sometimes easier to find than the others).
Spray-on sunscreens might seem less expensive and easier to apply, but in my experience you have to reapply them more often and replace them more frequently, so the savings quickly disappears. In addition, the Food & Drug Administration is currently evaluating the safety of spray-on sunscreens, so you'll probably want to skip using them on kids for now (more on this over at Consumer Reports).
Always bring more sunscreen than you think you need to a beach destination or on a cruise. You could easily spend more than $20 on a single bottle if you have to buy more at the resort or ship gift shop. For more on sunscreen best practices, check out Hint Mama's recent post on a rule of thumb for sunscreen application.
5. The swim diaper tip. Swim diapers are built to hold a lot more fluid than regular diapers. But we learned the hard way that they will soak up water while your child splashes around and they do have a maximum capacity. Remember to change them every few hours, even if they're clean or they could overflow at exactly the wrong moment. (Note from Hint Mama: You may want to consider investing in a few reusable styles if you plan to visit the beach often as the cost of disposables can quickly add up).
What is your best beach hint? Share it below.
Eileen Gunn is the founder of FamiliesGo!, a website that helps parents plan better family vacations more easily. She's a veteran journalist, fearless traveler and mom of one. Her hotel-loving 6-year-old has been out of the country nine times (plus 2 in utero), taken 2 cruises, boarded several planes and taken a bunch of car trips. You can follow Eileen on Pinterest or Twitter.
Follow Hint Mama on Facebook and Twitter, and read more about her and her disclosures.
Photo credit: Eileen Gunn