Note from Hint Mama: Before my daughter was born and even when she was an infant, I assumed that I'd never be that parent with toys taking over the living room, dining room and other rooms in the house. But, here we are, 23 months later, and my daughter's toy collection is taking up more and more space and I'm in dire need of some additional – and affordable – toy storage options. Luckily, I now have a two-hint series on toy storage from Hint Mama contributor Crystal Sabalaske, a mom and professional organizer, to help me. Her second toy storage hint is below, and read her first hint on the subject here.
I recently shared four tips for storing (and controlling the spread of) toys, and I promised I'd share affordable toy storage ideas in a follow-up hint. Today's hint consists of seven of my favorite budget-friendly toy storage options.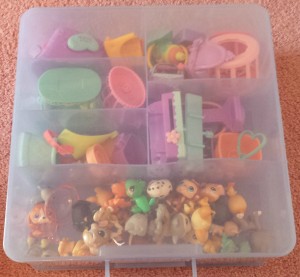 1. Scrapbook supply storage boxes. I use one that I bought at at Target several years ago, but similar boxes can be found at Amazon.com. They are great for small toys and can easily be carried around the house. (As I've mentioned before, I'm a big fan of moveable toy storage options).
2. Lunchboxes. Lunchboxes are lightweight, moveable and perfect for storing craft supplies, small dolls, cars or action figures. Plus, you can always buy them on clearance after school starts.
3. Pop-up hampers. Bed Bath & Beyond, Target, Walmart, Amazon.com and local dollar stores sell pop-up hampers in various sizes. Such hampers offer the perfect (and moveable) storage solution for stuffed animals and balls. Smaller sizes can be used for doll clothes and play food. Here's an example of one I like by Neatfreak.
4. Sterilite Showoff containers. We use these containers for doll shoes, but they are also great for cars, Legos, action figures, Polly Pockets and craft supplies.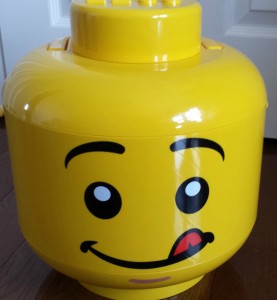 5. Lego Storage Heads. The stacking trays in this type of storage container make Lego set-up and clean-up so easy. Both"girl" and "boy" storage styles are available.
6. Soft-sided toy boxes. I've always been a fan of soft sided, i.e. collapsible canvas, toy boxes (like this one from OneStepAhead or this cheaper one from Ikea). The sides of such boxes are often held together with Velcro, and the lids aren't heavy, so if your kid decides to hide inside of it, you don't have to worry that he or she will get trapped. Plus, they're light and easily moveable.
Though keep in mind that collapsible also means prone to "dents." In our house, such soft-side boxes are where we keep some of the stuffed animals the kids aren't willing to let go. For stuffed animals and dolls, I prefer storage containers with lids to prevent the items from getting dusty.
7. Shelves similar to the discontinued IKEA Expedit shelves. We own several IKEA Expedit shelves. My favorite thing about this shelf unit is that its square-shaped shelves are the perfect size for holding various types of storage containers. We use canvas, wicker, and fabric-covered heavy duty cardboard baskets and bins as well as drawer and cabinet inserts in these shelving units to house everything from video games to board games, building toys, books, and craft supplies.
In other words, while the larger versions of these shelving units aren't easily moveable from room to room, they're perfect for storing easily moveable containers, and the smaller versions of the shelves can easily be moved. Though Expedit shelves are no longer being made, Ikea now offers a lookalike option called Kallax.
Of course, these seven options only scratch the surface of the endless toy storage options out there, and it's always fun to get creative and see how you can repurpose other organizing gadgets to store toys. For instance, I really like the shower caddy and coffee can storage options highlighted on the Attempting Aloha blog.
What are your suggestions and solutions for organizing and storing toys? Is there one organizing product you use that you would recommend to every parent? Share your thoughts below.
Crystal Sabalaske, professional organizer and owner of Cluttershrink, has been helping people get organized in their homes and offices for the past 12 years. She has appeared on several episodes of HGTV's series, Mission: Organization, and her organizing tips have appeared in national publications such as Family Fun, Parents, and Women's Health magazines. Crystal lives in Bucks County, PA, with her 9 year-old daughter and 8-year-old son. Follow her tips on Facebook, Pinterest and Twitter. 
Follow Hint Mama on Facebook and Twitter, and read more about her and her disclosures.