It's officially summer, so that means you're probably in the market for new summertime accessories for your kids, like sun hats, swimsuits and sunglasses.
If so, here's some good news: there are numerous ways to cut the costs of these seasonal purchases. Today's hint is seven such strategies that I cover in my latest piece on U.S. News Money's The Frugal Shopper blog.
1. Consider reusable swim diapers. If your little one is going to be spending hours in his or her suit this summer, consider investing in a few reusable diaper styles. Not only can this purchase potentially save you from having to buy loads of replacement disposables, you'll also be able to use the reusable diapers for more than just swimming. For girls, for instance, they can double as under-a-dress diaper covers.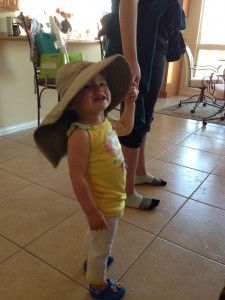 2. Cross cover-ups off your list. Rather than buying special cover-up outfits for your children to wear over bathing suits at the beach or pool, simply cover them up in clothes they already have around the house (think a casual dress, or shorts and a t-shirt). It's also worth noting that this tip applies to adults as well.
3. Cover your child's head for less. If you have a favorite sun hat brand, check the company's site to see what kind of deals they're offering (I personally love Sunday Afternoons-brand sun hats, and the company's site thankfully offers some cute children's hat styles at roughly half price).
Meanwhile, here's another cost-saving approach to consider: If you have extra adjustable adult hats around your house, check to see if you can make them small enough to cover your child's head. And if it turns out they fit, just make sure they provide appropriate shade over your child's face and neck. I recently employed this approach for fun on vacation – you can see my daughter in the adjusted adult hat in the image above.
You can read more about these cost-saving strategies, as well as read my four other related tips, in the full piece, 7 Ways to Save on Kids' Summer Accessories, on The Frugal Shopper blog where I'm a contributor.
What are your tips for saving on kids' summertime accessories?
Follow Hint Mama on Facebook and Twitter, and read more about her and her disclosures.