Forget the traditional sippy cup consisting of a cup and a matching top with a sippy spout.
In recent years, a number of parent innovators have rethought the traditional sippy cup design, coming out with stand-alone sippy tops that actually work on many regular cups.
In other words, instead of buying all new cups for your little one, you can just buy some of these special tops, which tend to run $5 to $7, and use them on cups you already have. Opting for this new generation of sippies – what I'm calling Sippy Cups 2.0 – is today's hint.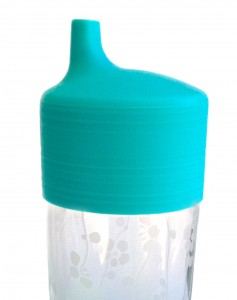 Among the new designs, in May, Silikids started selling the dishwasher-safe "Siliskin Top," a roughly $5 silicone top that stretches over and covers the top of an average, standard-sized cup. Silikids, a company offering silicone and glass tableware for kids, is giving away $100 worth of its products to one lucky reader – details below.
Elsewhere, Double Double offers a new line of dishwasher-safe SipSnap silicone lids designed to cover regular cups and transform the cups into traditional sippy spout and straw cups, depending on the SipSnap lid model (you can preorder a set of three SipSnap lids for $21 at the Double Double site; shipment is expected in early September).
In addition to enabling parents to transform cups they have at home into sippies, tops such as these can also help out parents eating out with young children. Instead of having to bring an actual sippy cup with them, parents could instead just carry one of these tops in their diaper bag and have it ready to attach to a restaurant cup. The new tops are also designed to be hard for little kids to take on and off, helping to curtail spills.
To be sure, the new top designs won't necessarily work with every cup design out there. Silikids, for instance, says its Siliskin Tops will work with most standard, straight-sided glass, plastic or metal cups with a diameter of 2 to 2.5 inches (and they also work with Siliskin glass and sippy cups). Meanwhile, the SipSnap lids will work on any cup that doesn't have handles, as weeSpring's weeLove blog noted back in April.
Yet despite these limitations, parents seem very excited about this new generation of sippies. Silikids' first run of the Siliskin Tops has already sold out. At the same time, as NPR pointed out last month, Double Double raised four times its goal amount in a recent SipSnap kickstarter campaign.
But what if you already have a drawer or cabinet full of sippy cup parts? Well, these new designs might make good baby gifts for new parents you know. It's also worth noting that there are similar products on the market designed to transform water bottles into sippies of sorts, such as the Flipple (the Simple Sippy version) and the Green Sprouts Toddler Water Bottle Cap adapter.
What's your family's favorite sippy cup and why? What are your tips for saving money on sippies? What do you think of these new sippy lids? Share your thoughts –and enter to win your choice of $100 worth of Silikids products – below.
Follow Hint Mama on Facebook and Twitter, and read more about her and her disclosures.