New dress-up and pretend play clothes and accessories often aren't cheap. Princess dresses can run up to $80, depending on the style, and special fireman and policeman outfits can put you out about $15 to $25 each.
However, there is an easy way to save on dress-up play props, a money-saving strategy that is today's hint.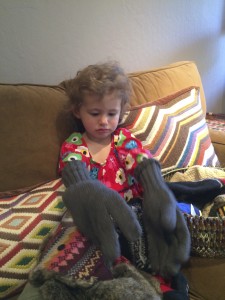 The tactic: Let your little one play with out-of-season apparel, accessories and gear you have around the house. This cost-saving trick works especially well when the pretend players are still toddlers and is an easy, fun and safe toddler activity idea requiring little prep.
For instance, one recent evening when I quickly needed an activity to occupy my 22-month-old daughter before dinner, I took a bin of hats and gloves out of our coat closet and plopped it on the couch next to my tot. She then proceeded to try on many of the hats and gloves (see the picture to the right), and both she and I were thoroughly entertained for a good 20 minutes or so. So, I plan to store some hats and gloves in a dress-up play bin or box for my daughter.
Don't believe me that kids like to play with out-of-season gear? Well, others have advocated the approach as well. Over at Red Tricycle, for example, Beth Shea of Inhabitots suggests parents "bring out of season clothing and gear [like gloves, hats, swimsuits and snorkeling gear] out of storage" for dress-up play. Ms. Shea writes that you can "get your money's worth" out of such gear by "making them available to your kid no matter the season."
Similarly, Melinda Gustafson Gervasi, who blogs at The Upside of Frugal, incorporates winter wear into her daughter's dress-up play. She writes that "here in our frugal home, we revert to 1970s dress up. Find a basket of winter wear, throw in a pair of boots 5 sizes too big and add a dash of something from your room. Bam, you have a butterfly ninja master. No cost required."
Elsewhere, many parents are fans of upcycling old Halloween costumes into dress-up play gear (and I'm saving my daughter's butterfly costume from last Halloween just for this purpose). Tricia Edgar writes over at Families.com that she makes her kids' Halloween costumes a little large each year so they can fit over cool-weather clothing and this enables them to have at least a year's shelf life in the dress-up box.
To be sure, there are lots of other smart strategies for stocking the dress-up play wardrobe, like buying items at yard sales, dollar stores and thrift shops. Still, the nice thing about the seasonal accessory strategy is that it typically requires almost no effort — people generally have loads of such items gathering dust at home.
What are your tips for creating a dress-up play props collection for less?
Follow Hint Mama on Facebook and Twitter, and read more about her and her disclosures.