When my daughter was a baby, I didn't let her naptime stop us from leaving the house. Instead, I simply snapped her infant car seat into her stroller and covered the car seat with a swaddle blanket, and then off we went walking around our neighborhood.
However, I admit that my daughter didn't always sleep as well as I'd like when we were on the go. One likely reason: The blanket covering the car seat wasn't so great at blocking the sun and distractions, and at providing a sleep cocoon of sorts. It was hard to keep attached and frequently blew off in the wind.
This is why I so wish I had known about the clever trick for securing blankets to car seat and stroller sun shades that is today's hint, a tactic that parents who like to be out and about with babies on sunny days will want to file away.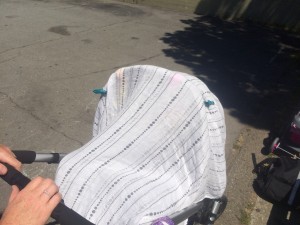 The trick, which I recently learned from a clever mom at the local Baby Boot Camp (think mom-and-baby exercise) class I frequently attend: Clip the blanket to the car seat (or stroller) using clothespins, just one of the many ways clothespins can come in handy for parenting. And black binder clips would likely work just as well.
My fellow exerciser said she came up with the clothespins idea after the blanket covering her baby kept flying off the car seat in the wind, and she wasn't aware of any products specifically designed to secure blankets she already had to the stroller.  Thus, inspiration struck and she improvised with two plastic clothespins (you can see how she attached the pins to the blanket and the car seat in the images above).
To be sure, you can buy special sun shade blankets designed to tie or clip to strollers and or car seats, like this one from Rain or Shine Kids as well as sun shade products from Protect-a-Bub and Summer Infant, among others. And of course, products do actually exist (or have existed) to clip blankets you have to strollers (including ones by blankyclip and others called clip'ems or simply blanketclips), though they're generally more expensive than clothespins and binder clips.
Finally, as there really are no new ideas, I learned after a little research that my fellow exerciser isn't the first person to come up with the smart clothespins trick. Parents over at the comment boards of the Windsor Peak Press (the Baby Bargains book publisher) chatted about it a while back, as did moms over at BabyCenter. Meanwhile, Jelli, who blogs at Jellibean Journals wrote about the trick back in 2012, and the site Parent Hacks covered it in a great 2011 roundup of 40+ creative uses for clothespins.
Still, great minds must think alike and already, many of the other moms in our exercise class have copied this clever approach.
What are your tricks for preventing the blanket-blowing-in-the-wind problem? What other parenting-related uses have you found for clothespins and binder clips?
Follow Hint Mama on Facebook and Twitter, and read more about her and her disclosures.