Now that it's late June and finally summer, the season of outside play is officially here. However, you may have noticed that many outdoor toys – from slides, sandboxes and swings to water tables and ride-on cars – don't come cheap.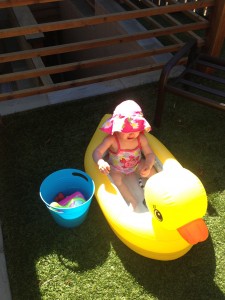 So if buying one of these products is on your to-do list, today's hint is five strategies for saving on outdoor toys that I recently covered over at U.S. News Money's The Frugal Shopper blog.
In the piece, "5 Ways to Save on Outdoor Toys This Summer," I cover tips ranging from when the best deals are available (think August, according to Cheapism.com) to how to know which outdoor toys are worth the money (BabyCheapskate.com's "Buy-It-Now" prices for 22 top outdoor toys can help with that). My other tips include where to find the best outdoor toys deals (hint: Zulily.com is one resource to check out) and how to make your own outdoor fun.
Read more on all five tips in the full piece over at The Frugal Shopper blog, where I'm a contributor.
What tips for saving on outdoor toys did I miss? Share your thoughts below.
Follow Hint Mama on Facebook and Twitter, and read more about her and her disclosures.