Note from Hint Mama: We're just about to embark on the potty training journey and I've heard that teaching proper potty etiquette (like wiping, flushing and hand washing) can be a lot more difficult than teaching the go-potty basics, and that kids who have the basics mastered can still easily regress. So, that's why I'm happy to now have the tips for keeping the potty training (or more accurately, the potty manners training) momentum going that Hint Mama contributor Susan Maccarelli shares in today's hint. Susan, a stay-at-home mom to two toddlers, blogs at Pecked To Death By Chickens, runs the site Wooden Train Set Reviews and is working on a line of two-piece footie pajamas perfect for potty training.
When I was potty training my daughter, I counted my chickens before they hatched. In other words, I made the mistake of thinking we were done with training when my daughter could identify when she had to go potty and get to the bathroom in time. Pretty quickly, however, I realized that her bathroom etiquette and independence still weren't quite 100% (in fact, far, far from it! Let's just say there were some dirty hands, clothing mishaps, accidents and unflushed toilets).
Now that my son is approaching potty training age, however, we're not likely to run into the same snags (or at least, not as many of them) because I've figured out some methods to help with the final stage of potty training that comes after the basics are done (let's call it "the bathroom manners" stage).
Today's hint is my five tips to keep the training momentum going when power of the star sticker charts and M&M's has worn off (okay, just the star charts' power) and your toddler or preschooler is starting to get the hang of potty training but isn't a bathroom etiquette pro yet.
1. Flush Master of the Day. If you have forgetful flushers like I do, make them Flush Master of the Day and offer a small reward when they remember to flush on their own all day. You can also reward them if they find that someone else has forgotten to flush, a strategy that should get them checking and thinking about the flushing act. I know this is sort of encouraged tattling, but its fun!
2. Wipe Out! If you have a lazy or fearful wiper or just a kid who isn't getting the wiping job done (please tell me my kid isn't the only one who has had this problem), try a wiping game of sorts where your child practices wiping dolls or other plastic figures. You can get clever (or gross, depending how you look at it) by using peanut butter or chocolate sauce in your wiping how-to – for instance, have your children try to get the sauce all off dolls using toilet paper without getting the sauce on themselves or making too much of a mess.
3. Hand washing helpers. Just like you may have already let your little ones pick out their own underwear, try also letting them pick out their own soap (my kids and I like the eco-friendly and pleasant smelling Method Clementine handwash). The other key here is proximity/logistics. You need to make sure towel, soap and faucet are within your child's reach. The Bumbo step stool is a favorite step stool of ours, but there are tons of stool models to choose from.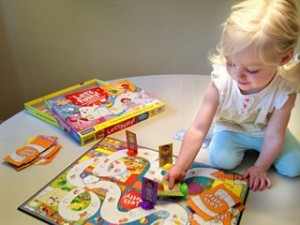 4. The potty game. I recently won a game called Let's Potty from a blog giveaway. This is a fun game to play with your kids to keep them in the potty zone. I found that my daughter, who had not had an accident for months, was starting to have them a little more frequently when she would get wrapped up in doing something fun. Playing this game reengaged her with potty training and helped her learn bathroom manner basics, while she also got to have fun and spend time with me. It's also worth noting that Let's Potty is a great game for newbie potty trainers.
5. Potty-friendly clothing. If you have been woken up at night to wrestle a child out of one-piece footie pajamas to go to the bathroom, or have had to fish a footie sleeve out of the toilet, then you know the importance of dressing your kids for potty training success. Elastic waists (instead of overalls, fly fronts or onesies) make it much easier for kids to get in and out of clothing on their own. My husband and I loved the benefits of footie pjs for our kids, but we found it nearly impossible to find easy on/off footies in toddler sizes. So, we decided to launch My Own Two Footies, the two-piece potty-friendly footie pajamas that will be available soon (made in the USA from organic fabric). If you're interested, visit our launch page and leave your email address so we can let you know when they will be available (Note from Hint Mama: I'm anxiously awaiting their release).
Hopefully these tips will help you take potty training to the next level. What tips did I miss? Please share your best ideas for keeping the potty training, and bathroom etiquette training, momentum going below.
Susan Maccarelli is a temporarily-retired sales and account management professional who has been a stay at home mom since 2010. As mom to 2 toddlers (ages 2 and 5), wife to a work-from-home husband and executive director of the Maccarelli family meals, activities, cleaning, laundry, shopping, real estate endeavors, travel and general errands, she derives constant inspiration for her blog, Pecked To Death By Chickens, from the little annoyances that pop up daily as she tries to keep an eye on all the moving parts. Her posts have been featured on BlogHer, Project Underblog and BonBon Break, and she is also the founder of the site Wooden Train Set Reviews and is working on a line of two-piece footie pajamas. Susan enjoys travel, reading, cooking and talking about herself in the third person. Follow Susan on Facebook, Twitter and Google+.
Follow Hint Mama on Facebook and Twitter, and read more about her and her disclosures.