Schools out, the weather's warm and the pool's open, so you may be in the market for new swimsuits for your little ones. If so, you're in luck. Today's hint is three tips I've learned regarding how to make baby, toddler and kid swimwear worth the money.
1. Go for a two-piece girl's swimsuit. If you're going to be spending more than an hour at the beach or pool, it's inevitable that you're going to have to change a diaper or make a potty visit while your little girl is still in her swimsuit. A two-piece design is way more convenient for diaper changes and potty training. Trust me (or the experts over at the Swimator blog), pulling down wet bottoms rather than an entire wet swimsuit will make life more pleasant for both you and your daughter.
It's worth pointing out, though, that are one-piece suits on the market that come with onesie-like snaps and are designed to make in-suit diaper changes easier, like one from Snappy Suits and suits from SnapMe Swimwear (which come with an extra row of snaps, so they can grow with your child).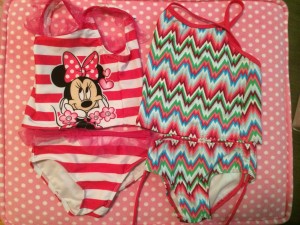 But two-piece suits have another advantage over many of their one-piece counterparts. If you lose a one-piece suit or it shrinks in the dryer, you're out of luck. However, if you lose part of a two-piece design, there's a good chance you can still mix and match it with other bottoms and tops. Plus, you could even just use a pair of snap diaper trunks (like these from i Play) as bottoms with any two-piece top.
To be sure, some parents may not feel comfortable having their little girl in an itsy bitsy bikini (I'm one of them), but the good news is that there are loads of cute and functional tankini (think a suit with a longer, bigger top than a small bikini) suit models out there, like these Cool Mom Picks-approved styles.
2. Buy a size or two up. For some reason, little swimwear runs very small. I learned this the hard way when I bought my toddler a swimsuit in her size only to find it barely fit. So, whether you're buying a suit for a girl or a boy, buy a size or two up from your little one's normal clothing size.
3. Look for styles that will grow with your little one. Since little kids grow out of their clothes so fast, I'm a big fan of buying clothes that have staying power and this applies to bathing suits too. That's why I love this tip from What to Expect: Buy adjustable bathing suit styles that can grow with your little one, meaning the suits can last at least half a year or so. What to Expect recommends looking for boy swim trunks with drawstring waists and girl suits with tie or adjustable straps.
Finally, a swimsuit isn't all you'll need to outfit your little one for the beach or pool, so check out my recent hints with tips regarding sunscreen, sun hats and sunglasses.
What little swimsuit shopping tips did I miss?
Follow Hint Mama on Facebook and Twitter, and read more about her and her disclosures.