Want to keep your little one occupied while you cook or clean up in the kitchen? There's no better way to do that than to invest in a play kitchen with which your little one can imitate you.
However, once you buy (or make) a play kitchen, you're not done yet. You still have to fill up the little kitchen with toy food and cooking accessories, the cost of which can quickly add up. I've already mentioned one way to cut the cost of play food– transform leftover food boxes into real-looking food toys – and today's hint is one way to save on toy cooking accessories.
The cost-saving strategy: Opt for functional play kitchen accessories, i.e. ones that have other uses beyond just serving as toys.
To be sure, I'm not suggesting that you should put functioning and potentially dangerous kitchen accessories (like real blenders and toasters) into a toy kitchen. Rather, I'm suggesting that functional kid-friendly kitchen accessories can double as toys in your little one's play kitchen.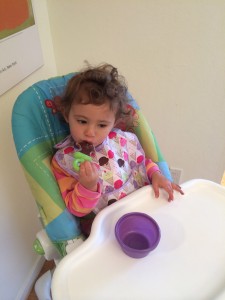 German toy company HABA, for instance, which makes a host of play food and kitchen accessory items, also sells functional cooking accessories that can be used in both play and real kitchens. HABA's $10 to $25 Silicone Kitchen Molds, are trays in which you can make popsicles, ice cubes, cakes and cupcakes in fun shapes resembling penguins, fish, flowers and safari animals, among other designs.
When these trays aren't in use in the real kitchen, they can be stored in your little one's play kitchen for fun pretend play. (Disclosure: This is precisely what I did with the two trays I received to review, both of which my 22-month-old daughter includes in her daily play kitchen cooking rituals. And you can see her enjoying a popsicle from one of the trays in the picture to the right.).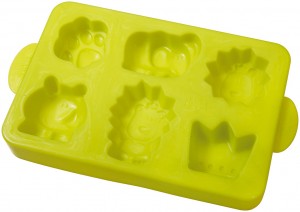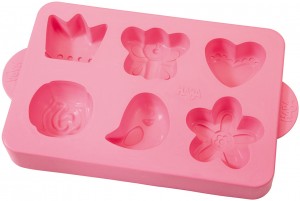 Plus, the trays will still be useful long past when your little one loses interest in his or her play kitchen. HABA is giving away $75 worth of its Silicone Kitchen Molds to one lucky Hint Mama reader – details below.
HABA's $5 round trays, meanwhile, are safe for food contact so they too could double as real kitchen items, and other toy brands offer similar products. Melissa and Doug, for example, offers food-safe plastic tea sets that are ideal for pretend play and snack time.
In addition, you can simply take safe and kid-friendly accessories out of your kitchen (think measuring cups, wooden spoons and non-breakable plates) and put them in your little one's play kitchen, as the sites Our Toddler Days and Apartment Therapy also suggest.
What do you think of these strategies for saving on play kitchen accessories? What are your favorite tricks for cutting the cost of toy food and kitchen items? What functional play kitchen accessories did I miss? Share your thoughts – and enter to win $75 worth of HABA's food molds – below.
Follow Hint Mama on Facebook and Twitter, and read more about her and her disclosures.