As I've mentioned before, my daughter went through what can only be described as a "bath-hating phase" around the time she was 18 months old. Luckily, though, she's been out of that phase for a while.
This I credit to a simple washcloth trick we mastered for keeping water out of our daughter's eyes during shampoo time as well as the inexpensive bath time toy that is today's hint.
The toy that helped my tot like the bath at least a bit more: Bathtub crayons.
Such crayons are specially designed for bath time and you can easily wash their marks off of tub walls and surfaces. Plus, sets of the crayons tend to run $10 or less.
To be sure, I'm not the first parent to sing the praises of bringing a little art into the bath. I first learned about the crayons when I was reading my go-to local mom message boards and other sites like The Bump and Momstastic, looking for tips for how to get my toddler to like the bath again.
Sure enough, the more experienced moms were right. Once I added the crayons to tub time, it didn't take long for my daughter to start liking baths again.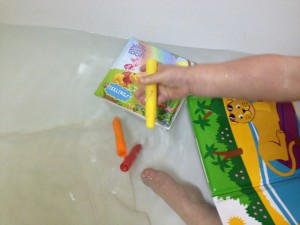 Now that she has her tub crayon collection, my daughter can spend a good 5 minutes or so scribbling on the tub surfaces, depending on her mood.
In addition, it's worth noting that not all bath crayons are created equal, and some may work better on certain tub surfaces than others. We've found that the Munchkin crayons (5 for $6) work best for us (we've also tried the Alex Toy models, and I plan to try Crayola ones soon as well as take a stab at making my own using instructions from the site 366 Days of Pinterest).
Of course, there's always the chance that your bath hater won't take to the crayons like mine did. You're still in luck, however, because there are other inexpensive solutions for getting over the bath-hating phase you can try such as bubbles (a bubble bath or simply blowing bubbles into the bath) and turning the bath into a ball pit. You also could encourage your tot to try out the washcloth or simply get into the tub with your little one.
How did you help your child get over the bath-hating phase? What bath toys do you recommend?
Follow Hint Mama on Facebook and Twitter, and read more about her and her disclosures.