When we leave the house, there's one piece of baby gear that I forget more often than not: a bib.
Until recently, if we weren't at a friend's place where I could borrow a bib, I'd just let my daughter go bib-less and I'd have lots of dirty, and sometimes even stained and ruined, clothes to deal with when we got home.
However, now I know how to make a quick bib wherever we are, thanks to a trick I just learned from a friend that is today's hint. The trick: Take a napkin and fold it up like you would a bandana to create an easy bandana bib to tie around your little one's neck.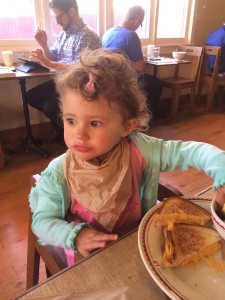 Not only can this trick be done with most restaurant napkins, whether they're paper or cloth, it also will save your little one's clothes from at least a few stains. Plus, it looks stylish and tends to stay on better than simply tucking one end of a napkin into your child's shirt. In addition, you can leave the napkin at the restaurant, so you don't have to throw a dirty bib into your diaper bag.
To be sure, a napkin isn't the perfect bib substitute. It doesn't have the pocket to catch food that most actual bibs have, leaving the bottom half of your little one vulnerable to food stains. It's also not as environmentally friendly and it's just as easy – if not easier – for toddlers to tear off than traditional bibs.
But if you happen to have a pacifier clip with double-sided clips or what Rachel from the site Lines Across calls an "instant bib clip" with you, the napkin bibs will probably stay on a bit better (you can find other tutorials for making clips that can transform napkins into bibs over at the sites Giver's Log and Pinterest and you can buy such clips as well, like this one from Baby Buddy).
Of course, if you prefer a more bib-like disposable option, there actually are on-the-go bib products on the market. Munchkin, for instance, sells packs of disposable bibs – each disposable bib comes with a leak-proof liner and a pocket to catch falling food.
But while such disposable bibs work great, they're not cheap and you still have to remember to put them in your diaper bag – or at least, in your car. So, you'll probably still be relying on the napkin trick more often than not, assuming you're as forgetful as me.
What do you think of this trick? What are your tricks for making instant bibs when you're on the go?
Follow Hint Mama on Facebook and Twitter, and read more about her and her disclosures.