My 21-month-old daughter hasn't yet climbed out of her crib, but I know that day – and the eventual transition to a toddler bed from a crib — isn't far off.
And though we don't have a second child yet, I'm already thinking about what we should do when that day finally comes, and I'm debating whether we should convert our daughter's crib into a toddler bed, or buy my daughter a small twin bed and save the crib for a future child.
If we decide to do the latter, I'm going to skip buying toddler bedrails. The rails, designed to keep toddlers in their beds at night, can run as much as $20 to $35 on Amazon.com. Instead, I'm going to go for a much cheaper DIY option that is today's hint.
The trick, which I learned from some friends: Use pool noodles as makeshift toddler bedrails.
When my friends moved their nearly 2-year-old daughter into a regular twin bed, they bought three $3 pool noodles and stacked them in a pyramid at the edge of their daughter's bed. When those seemed to slip, they put two noodles next to each other at the edge of the bed and eventually, they transitioned to one pool noodle lining the edge of the bed, with the noodle held in place by a fitted sheet.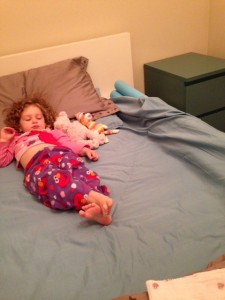 The noodle bedrail seems to be doing the trick. My friend says her daughter doesn't crawl out of bed, even though she knows how to climb over the noodles. "It has kept [our daughter] in bed every night," my friend says. "I have seen her roll into one and she then rolls the other way."
To be sure, my friends aren't the only fans of this trick. The tactic has been covered over at Baby Center, Life Hacker, Parent Hacks, and The Bump, as well as over at the blog Mastering Mommy Brain, and fans of it point out that a pool noodle under a fitted sheet is more comfortable to bump into at night than a bedrail.
Still, pool noodles and similar tricks (like a rolled up blanket under a fitted sheet) may not work for every kid. My friend says she wouldn't suggest this tactic for toddlers who move, roll and kick a lot in their sleep. In fact, she says she learned the trick from a friend who had one pool noodle "incident." The friend's daughter rolled out of bed over the noodles one night when she was particularly restless.
For such restless sleepers, the best bets may be a mattress on the ground or no rail at all and blankets on the ground by the bed to soften any falls, as moms suggest over at the site What to Expect. Eventually, kids do learn to stay in the bed, bedrail, pool noodle or no.
You may be wondering, however, what you're going to do with the pool noodle after your little one learns to stay in bed (assuming you don't have a pool). The good news is that the Internet is full of great ideas for what you can do with old pool noodles.
They can be used for childproofing (think sharp corners) or to create a custom outdoor game, as the Rookie Moms suggest. Babble.com covers 20 clever ways to use them, and find more ideas over at Tip Junkie, Parents.com, The Crafty Blog Stalker and ParentDish.
Have you tried pool noodle or other DIY bedrails? Why or why not, and how did they work out? What creative uses have you found for pool noodles? Share your experiences and thoughts below.
Photo credit: Elizabeth Chernack. Dave Greenstein
Follow Hint Mama on Facebook and Twitter, and read more about her and her disclosures.