Shortly before a recent United flight, I noticed that the sippy cup I had brought for my 20-month-old daughter was broken. We essentially were sippy-cup less.
So, when the flight attendant came around to take drink orders, I asked her for a plastic cup and lid to make the "kid-friendly airplane cocktail" my toddler often enjoys when we fly.
While the flight attendant said she didn't have the plastic lids, she offered us a much more sturdy option that is today's hint for what to get when you forget a sippy cup, or the one you bring malfunctions, when you're out and about.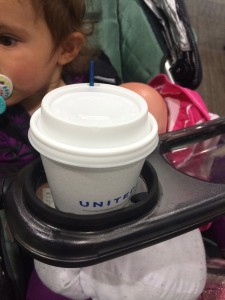 The sturdier option the flight attendant gave my daughter: A small paper coffee cup with a lid and a cocktail straw. For the rest of the flight, my daughter enjoyed water and orange juice out of her makeshift sippy cup, and we even brought it with us after the flight to fill in for my daughter's broken sippy in the airport and on the way home.
Where would you get such a coffee cup if you're not on a flight, you may be wondering?  With coffee shops on nearly every corner these days, you shouldn't have a problem finding somewhere to pick up a cup, lid and straw, and the odds are good you'll get the cup for free if you mention that it's for your little one (I've had no problem, for instance, getting free coffee cups for my tot to play with).
To be sure, I'm not the first parent to realize that coffee cups make great on-the-go sippy cups. And there are other solutions you can consider if a coffee shop isn't nearby.  Back in 2006, Adam Pash wrote about this trick over at lifehacker: poke a hole through the lid of a store-bought drink bottle and stick a straw through the hole.
Elsewhere, over at Pinterest, I came across parents turning everything from cottage cheese containers to regular cups (with the help of Glad Press'n Seal) into stand-in sippy cups. Finally, of course, you could always bring extra sippy cups with you just in case or find a drugstore and buy a new sippy cup.
Still, if you don't want to carry multiple sippy cups or buy a new sippy, there's a good chance you're more likely to find a free coffee cup wherever you happen to be rather than a free cottage cheese container.
What do you do when you're out and about with your little one and need a sippy cup pronto?
Follow Hint Mama on Facebook and Twitter, and read more about her and her disclosures.