When my daughter was a baby, I spent a lot of time boiling water to clean pacifiers, bottle parts and breast pump accessories, believing that "sterilizing" the parts was a necessary part of the cleaning process.
It turns out I was wrong, as I've since learned. In fact, many experts recommend skipping the sterilizing step, a time-saving technique that is today's hint.
I mentioned a while back that my lactation consultant says assuming you have a healthy, full-term baby, it's okay to skip sterilizing pump parts and accessories. Instead, she recommends just washing them with hot water and soap, making sure to rinse them off well. Well, the lactation consultant, Charity Pitcher-Cooper, also says old-fashioned soap and water is good for cleaning bottles, which she also doesn't recommend sterilizing. It's unnecessary, she says, "and creates more work."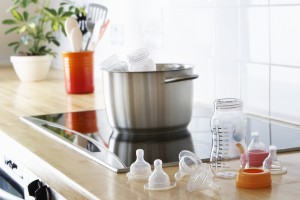 She's not the only one giving out this time-saving advice, despite the sterilization recommendations in the cleaning instructions that come with pacifiers, bottles and breast pump parts. The site What to Expect, for instance, says not to worry about "'unsterilized' baby bottles, nipples, and pacifiers," noting that "running them through the dishwasher or hand scrubbing them in hot, soapy water" will get them clean enough.
Similarly, the site WebMD says that sterilizing these items made sense in "the old days when water supplies were not reliably clean," but today there's generally no reason to sterilize them. As The New York Times Well blog pointed out in December in a post on how to clean baby bottles, experts say that "if your water is safe enough to drink, it's safe enough for cleaning." Others who advocate this approach include Dr. Ari Brown of Baby 411 and the other experts mentioned in this helpful About.com piece on the subject.
In addition, many experts point out that it's good for babies to encounter a bit of germs. In fact, germs can be healthy to some extent, as one public health expert told me in an earlier hint.
So when is the sterilizing step necessary? It comes into play when your baby is sick or was premature. In those situations, you'll need to "be more careful about milk handling and sterilization procedures," says the site Ask Dr. Sears.
Do you agree? What's your take on the sterilizing step – yea or nay, and why?
Follow Hint Mama on Facebook and Twitter, and read more about her and her disclosures.